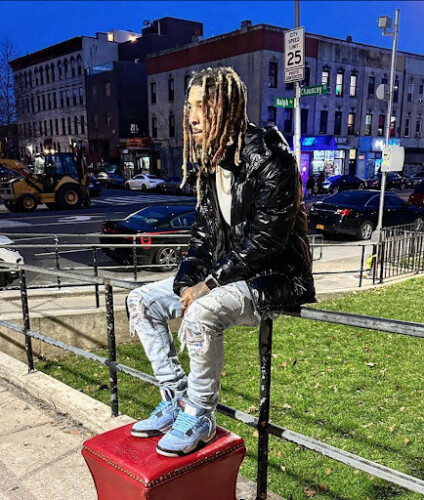 Slick Pusha, also known as SP, is a rising hip hop artist from Brooklyn, New York. With a career spanning five years, he has established himself as a versatile and skilled lyricist, known for clever wordplay, hard-hitting verses, and a captivating stage presence. Slick Pusha's music style and genre can be described as a blend of different sub-genres within hip hop. He seamlessly transitions between different types of hip hop, making him a unique and exciting artist to listen to. 
Slick Pusha is now gearing up for the release of his latest mixtape, "5axrifixes." This release promises to be a melodic and genre-bending project that combines many different aspects of hip hop and R&B. The mixtape is set to drop soon and is sure to be a hit among fans and critics alike. SP has emphasized that this project will mainly focus on his melodic style of rap music.  We are excited to hear more music by  the artist similar to his hit single, "No Kap." Which also released with a music video, directed and edited by SplashThaKidd and co-directed by Waldy, which was shot in Hollywood, California, and other locations.
The "No Kap" music video is just one of many examples of Slick Pusha's unique and captivating visuals. He recently traveled as an opening performer on Smoke Purpp's 27 City ' WE OUTSIDE ' Tour that stopped in almost every major city in the United States.
Slick Pusha's music can be found on various streaming platforms such as Spotify, Apple Music, Tidal, Amazon, YouTube, SoundCloud, and many more. Follow him on his social media handles Facebook, Instagram, Twitter, and TikTok to stay updated on his upcoming releases, events, and tours.
In conclusion, Slick Pusha is a rising hip hop artist that is sure to make a big impact in the industry. With his unique and versatile style, captivating visuals, and undeniable stage presence, he is definitely an artist to watch out for. Be sure to check out his upcoming mixtape "5axrifixes" and music video for "No Kap" and follow him on social media to stay updated on his journey in the music industry.
FOLLOW SLICK PUSHA w/ LinkTree
© 2023, Logan. All rights reserved.