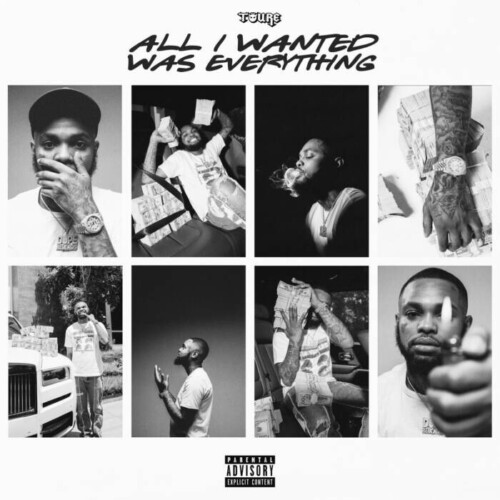 Embarking on a journey to become a leading force in Philadelphia's rap culture, TOURE, the esteemed representative of West Philly, unleashes a masterful 13-track EP titled, ALL I WANTED WAS EVERYTHING today via DOPE Records. 
ALL I WANTED WAS EVERYTHING plays out like an audio map that guides you through all of TOURE's songwriting multitudes. For "KISHA," he coasts over a subdued instrumental for a flex anthem coated in unaffected brags and sly death threats. It's a playboy's ethos with a splash of danger. Meanwhile, for "AIN'T WANNA LEAVE," he swerves to pained melody, teaming up with EST Gee for a trenchant rumination on the casualties of life on the frontlines. This 13-track masterpiece stands as a testament to TOURE's refined technical prowess, reflecting his remarkable growth as an artist. Check out the full tracklisting below.
Sharing his passion for this new body of work, TOURE said, "Music has always been my guiding light, and with this EP I've poured my heart and soul into every track. This EP truly captures my journey and aspirations. I'm coming for everything and more."
Leading up to the EP's release, TOURE unveiled a cinematic music video for "KISHA,"drawing inspiration from the cult classic film Belly. TOURE recreates the bedroom scene with Kisha while inserting his own lifestyle flare in a lavish Miami mansion. His bars glide through the aspirational street anthem as he raps, "I'm so bossed up, I don't do regular shit. I don't want to jump in no regular whip. I don't want to fuck with no regular b*tch. She look like Kisha from Belly and shit."
Continuing his meteoric rise, TOURE will be headlining his own live concert at the Theatre of Living Arts (TLA) on August 26th, solidifying his status as one of Philadelphia's most promising emerging performers. Purchase tickets – HERE. Recently lauded by by SAY CHEESE TV for his exceptional storytelling skills, TOURE's musical journey continues to captivate audiences across the city. 
ALL I WANTED WAS EVERYTHING marks TOURE's triumphant return, following the EP, Hood Poetry. This earlier release became the soundtrack to the City of Brotherly Love, earning praise from industry titan Meek Mill, and growing his presence as a formidable talent to watch. 
Now after walking through the doors of success, TOURE grabs hold of his goals on ALL I WANTED WAS EVERYTHING. Stay tuned for more! 
FOLLOW TOURE ON SPOTIFY, YOUTUBE, INSTAGRAM
© 2023, Seth "Digital Crates" Barmash. All rights reserved.