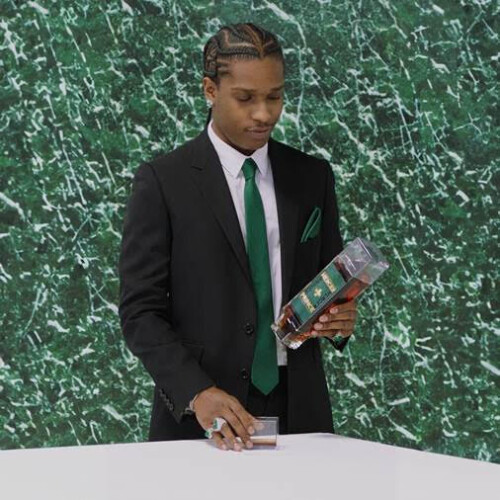 Mercer + Prince debuts its first ever campaign, "Carefully Crafted" which features its founder A$AP Rocky.
The video showcases the process of creating Mercer + Prince from A$AP Rocky's perspective. It kicks off with its founder arriving at the Mercer + Prince lab then step by step, he walks viewers through the core elements of a bottle of Mercer + Prince – the artifacts, sculpting, aroma and packaging. These elements show the level of craft that goes into a bottle of the whisky and includes a fun twist on his name, spelling A$AP (artifacts, sculpting, aroma and packaging).
In tandem with the brand's first campaign, Mercer + Prince recently expanded to new markets! Whisky-lovers and A$AP Rocky fans alike can now find Mercer + Prince in Boston, MA and Jackson, MS. This brings the total to 11 states where you can test out the whisky brand in-person. It can also be found in-stores in Atlanta, Chicago, Los Angeles, New Jersey, New York, Detroit, Washington DC, Connecticut and Maryland.
A$AP Rocky has been spotted with Mercer + Prince in Milan, Tokyo, Miami and more in addition to hosting his ongoing series of Mercer + Party events in different cities. Since its launch, celebrities like Rihanna, DJ Khaled, Marlon Wayans, French Montana, A$AP Ferg, YG, Tyga, DNice and more have been spotted enjoying the whisky too!
For background, Mercer + Prince debuted in March 2022 and set out to redefine the spirits industry through the lens of its founder by intersecting art and culture into his first liquor brand. The bottle's design was originally a napkin sketch from A$AP Rocky which turned into reality. Its functional yet sleek design features two cups on both ends which allows anyone drinking it to pour a drink for themselves and a friend. The twice distilled Canadian Whisky is influenced by rare Japanese Mizunara Oak and is aged a minimum of 4 years in ex-American white oak barrels. Its taste is approachable and easy to drink, especially for those who are starting to explore the category.
© 2023, Seth "Digital Crates" Barmash. All rights reserved.