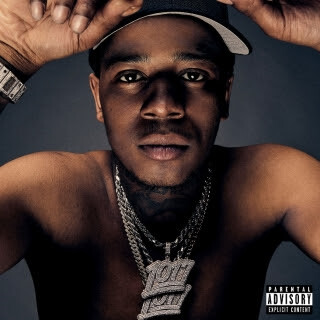 Scars shape us. They remind us of our toughest times. They tell our stories. Big Scarr found his purpose in turning life's trials and tribulations into gripping music that will carry his memory far beyond his 22 years of life. The Memphis rapper spoke on his life without fear or filter, now 1017 Global Music, Atlantic Records, and Gucci Mane are celebrating his legacy with the release of Big Scarr's posthumous album THE SECRET WEAPON, available now.
Composed of both recent singles and previously-unreleased music, the 17-track THE SECRET WEAPON honors Big Scarr's legacy and carries raw messages that fans knew and love him for. "I hate that he's not here to celebrate this great body of work that he worked so hard on," wrote Gucci Mane.
Big Scarr's debut mixtape Big Grim Reaper proved a true success after its April 2021 release, reaching #1 on Billboard's "Next Big Sound" chart as well as the top 15 on Billboard's "Top R&B/Hip-Hop Albums" and top 25 on the overall SoundScan/Billboard 200. The album showcases a hard-hitting array of singles, including the RIAA gold certified smash hit, "SoIcyBoyz 2 (Feat. Pooh Shiesty, Foogiano & Tay Keith)" which peaked at #13 on Billboard's "Hot 100" fueled by more than 150M global streams.  
2021 saw Big Scarr making his mark on the hip-hop scene, a remarkable year in which he ascended to #1 on Rolling Stone's Breakthrough 25 Chart, featured in Amazon's influential Artist Spotlight, and ranked among the RIAA's Gold & Platinum Class Of 2021 recognizing artists who have achieved Gold & Platinum status for the very first time.
Maintaining momentum into 2022, Big Scarr was named to XXL's 2022 Freshman Classshortly after releasing Big Grim Reaper: The Return. The deluxe extension is highlighted by provocative single "Fucc The Rap Game," and sees superstar features from Gucci Mane and Offset. Such releases have propelled Scarr's music to over 950 million global streams and 350 million YouTube views to date.
By embracing his scars, Big Scarr gave hip-hop one of its realest stories out there.
"I just go in there and say what I live. What you're hearing is exactly who I am," he concluded.
© 2023, alanna. All rights reserved.