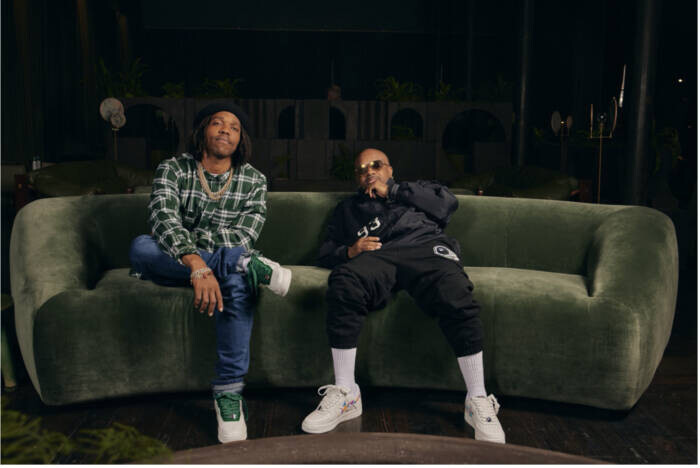 Continuing to make their mark on music at large, Grammy® Award- winning producer, songwriter, and rapper Jermaine Dupri and New Orleans-based rapper and founder of Jet Life Recordings Curren$y return today with the release of their new cinematic music video for "Essence Fest." The track stands out as a single from their recent collaborative EP, For Motivational Use Only.
The new visual finds Jermaine Dupri and Curren$y in Downtown New Orleans, with no shortage of captivating shots. Directed by Rick Nyce, it gives even more life to the already lively track. Between exotic low-riders, champagne bottles, courtside basketball seats, and numerous notable cameos, it essentially showcases a typical day for the pair of rap moguls.
For Motivational Use Only begins with a groovy vibe on "So So Jets," hinging on punchy bars from Curren$y and a danceable soundscape produced by Jermaine Dupri. The duo picks up the pace on the invigorating "Off The Lot" featuring 2 Chainz. The track opens with funky drums over a heavenly vocal sample, before Curren$y declares a chantable hook in, "I just left the lot in this bitch, I'm finna hit the shop in this shit." 2 Chainz adds a fierce verse highlighted by back-to-back bars and his signature vocals. The EP concludes with "Fortune 500." Between an uplifting guitar melody and driving drums, Curren$y spits straight fire for three minutes, detailing a story of his come up. The project also includes "Never Fall Off" (feat. T.I.).
Jermaine Dupri will be celebrating hip-hop's 50th and So So Def's 30th anniversaries with a star- studded performance at this year's Essence Festival. His curated set titled "The South Got Something to Say" will be showcased during the evening of Saturday July 1st and will include performances from Big Boi, Gucci Mane, Lil Jon, Ludacris, T.I., and more. Single-night tickets for Essence Festival are currently available HERE.
Stay tuned for additional updates.
© 2023, alanna. All rights reserved.