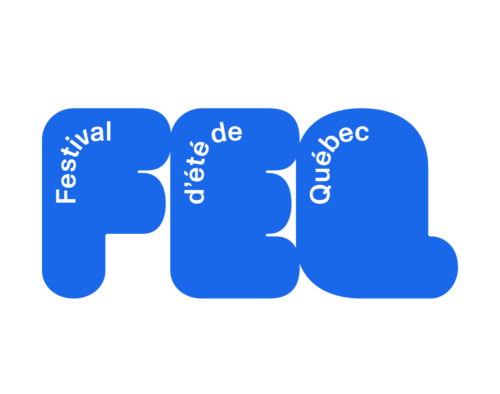 A singular, walled city on the banks of the St. Lawrence River, Quebec City, also called "La Vieille Capitale" (the Old Capital), is known for its provincial charm, cosmopolitan community, and astounding natural and architectural beauty. Each July, the historic city transforms into an open air party, thanks to Festival D'ete de Quebec, an annual multi-day music festival that draws music's biggest names to North America's most European city. We at Audible Treats are thrilled to represent this storied festival, now celebrating their 55th year.
Held annually since 1968, FEQ draws hundreds of thousands of fans (1.2 million total admissions!) and dozens of international artists (over 180 per year!) to Quebec's city center for more than a week's worth of fantastic performances on five separate stages. The festival is a music lover's paradise, with non-stop music and a buzzing city atmosphere.  With its multi-day, multi-venue structure and the full-fledged involvement of the surrounding city, FEQ is the closest North American analog to European city festivals like the UK's Wireless Festival, Spain's Primavera Sound, or Denmark's Roskilde.
The summer festival makes use of The Plains of Abraham, one of the most notable historical sites in Canada, where, in 1759, the British and French fought a decisive battle in the Seven Years' War. Now, hundreds of years later with Canada's fate in its own hands, the Plains of Abraham is the location of the FEQ's main stage, with a capacity of over 80,000. FEQ is renowned for its ability to recruit some of the world's best and biggest artists to that historic stage: Paul McCartney, Mariah Carey, The Rolling Stones, The Weeknd, Lady Gaga, and many others have headlined the festival in just the past ten years.
A festival for fans of all stripes, FEQ annually assembles a deep lineup of stars from all genres. Last year's edition welcomed headliners Rage Against the Machine, Maroon 5, Luke Combs, and Halsey, and made room for pop stars like Charli XCX, alt-rock legends like Alanis Morissette, rap stars like 2 Chainz, Denzel Curry, and $uicideboy$, DJs like Marshmello, and acclaimed acts like Afrobeats royalty Femi Kuti and Grammy-nominated jazz singer Arooj Aftab. Beyond its main stages, FEQ hosted "FEQ Extras," a series of late night afterparty events at Quebec's Armoury, plus surprise pop-up performances around the city.
On March 22nd, the festival announces the lineup for FEQ 2023, which returns to the old capital on July 6. Spanning 11 days until July 16th, this year's edition promises over 200 performing artists from all over the world. Tickets for FEQ are available to purchase at 12pm ET on that same day (3/22). FEQ passes are fully transferable–fans can share with friends and family if unable to attend one of the 11 days–and will be available for $140 CAD (or about $12.72 CAD per day!).
Stay tuned for much more information about the Northeast's biggest and most unique music festival, and stay tuned for a press application to come soon.
Visit the FEQ official site: https://www.feq.ca/
"Desjardins" pre-sale goes live at 12pm ET on 3/21
Follow FEQ on Socials: official site | tiktok | facebook | youtube | instagram
© 2023, Seth "Digital Crates" Barmash. All rights reserved.