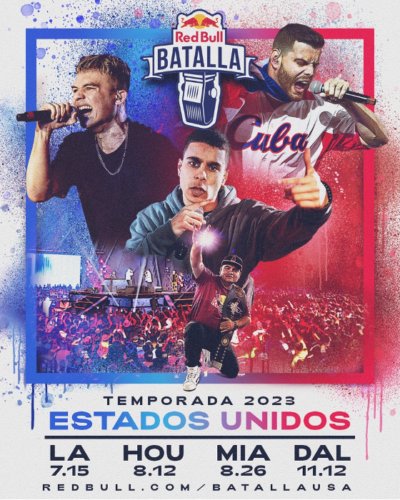 For the first-time ever, the U.S. will host 3 regional qualifier events where 48 top MCs from across the country battle it out in hopes of advancing to the U.S. Final in Dallas this November
U.S. Qualifiers take place 7/15 in Los Angeles, 8/12 in Houston and 8/26 in Miami
For more information, visit redbull.com/batallausa
 Today, the largest Spanish-language freestyle rap battle in the world, Red Bull Batalla, announces the full list of its 2023 U.S. qualifiers, a group of 48 of the country's most dynamic lyricists who have been selected to battle it out in this year's competitions. Now in its fifth season in the U.S., Red Bull Batalla will host 3 qualifier events this summer—in Los Angeles, Houston and Miami—as well as the U.S. National Final in Dallas on November 11. The U.S. champion, as well as champions from other Spanish-speaking countries in South America and Europe, will then compete in the Red Bull Batalla World Finals, coming to Colombia for the second time in December.
This Year's U.S. Competitors
Red Bull Batalla has selected the top Spanish-language freestyle MCs from every pocket of the U.S. to compete for glory this summer. Rappers who made the cut for 2023 include past Red Bull Batalla U.S. National Champions Yartzi ('19 and '20) and Reverse ('21), while the reigning 2022 U.S. champ, Oner, will receive an automatic bid to the Colombia World Final to compete alongside this year's champ. Other notable names in the qualifier field include the return of San Diego's own Santa Mykah, the first female qualifier in the U.S., as well as on-the-rise newcomers Zeu (El Salvador), Crown (Orlando) and Lies (Houston). Fans will also recognize battle veterans such as Boss, OG Frases and former World Champion Link_One in the mix. A full list of qualifiers can be found below.
Red Bull Batalla Qualifiers: July 15, August 12 and August 26
The qualifier phase will pit these ferocious freestyle talents in 1v1 battles taking place across qualifier events in Los Angeles on July 15, Houston on August 12, and Miami on August 26. MCs will go round-for-round showcasing their most impressive bars in hopes of advancing to the next round and ultimately securing one of the top slots at their qualifier, allowing them the chance to move on and compete in the U.S. Final to chase the 2023 National Champion title in Dallas on November 11. 
The panel of judges across the 3 qualifiers will include former Red Bull Batalla Mexico National Champion Lobo, longtime California scene icon Chester, and RioLoz from heavyweight L.A. freestyle crew Coast Contra. Racso White Lion, the dynamic co-host from last year's U.S. Final in Miami, will return to host all 3 qualifiers, pairing with local figureheads in each city's freestyle scene. In addition to his role as judge, Lobo will take the stage for a performance of his own at each of the qualifier events.  
Please find event details for the 3 Red Bull Batalla Qualifier events taking place this summer across the U.S. below:
July 15 – Red Bull Batalla Los Angeles Qualifier  
COMPETING MCs
 August 12 – Red Bull Batalla Houston Qualifier
COMPETING MCs
August 26 – Red Bull Batalla Miami Qualifier
COMPETING MCs
The four semifinalists who emerge from each summer qualifier event will go on to compete with the three returning finalists from 2022—Nico B, Cuban and MC Betho—for the Red Bull Batalla U.S. Finals on November 11 in Dallas. With all eyes on the action from the Lone Star State, 16 hopefuls will become one as the 2023 U.S. Red Bull Batalla National Champion is crowned, punching their ticket to Colombia to represent the U.S. at the Red Bull Batalla World Final. To stay updated on details for the Red Bull Batalla U.S. Finals, click here.
ABOUT RED BULL BATALLA  
Red Bull Batalla is a global freestyle rap competition that, since 2005, has provided a platform for the best hip-hop improvisors in the Spanish-speaking world to connect, develop and compete. After going virtual due to the pandemic, Red Bull Batalla's 2020 International Final was the most-watched live music event of the year (source). Last December, the 2022 International Final was hosted at the historic Palacio de los Deportes in Mexico City where Mexico's national champion Aczino made history as the competition's first-ever triple World Champion. You can relive the intensity of Aczino's historic third world title win on ViX. To experience additional 2022 highlights, visit Red Bull Batalla on YouTubeand Red Bull TV. For photos from Red Bull Batalla, head over to Red Bull Content Pool. 
CONNECT WITH RED BULL BATALLA
Follow and stay up to date with Red Bull Batalla:
Facebook: @RedBullBatalla
Instagram: @redbullbatalla
YouTube: @RedBullBatalla
TikTok: @redbullbatalla
Twitter: @redbullbatalla
Website: redbullbatalla.com
© 2023, Seth "Digital Crates" Barmash. All rights reserved.