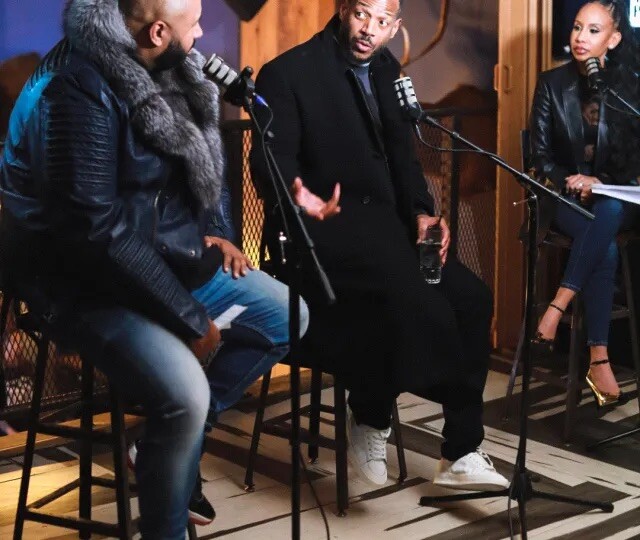 Experience Marlon Wayans like you've never seen him before! Continuously captivating the community, DJ Suss One and Kenya Gipson, hosts of The Feature Presentation podcast, recently hosted a live podcast experience with the actor and comedian at American Whiskey NYC. Be prepared to be floored and entertained by one of the funniest comedic actors in entertainment, especially Hollywood.
The enthralling event, organized by Amber Le, was sponsored by LeGrand Whiskey, where Wayans hosted a drinking game during the screening of "God Loves Me". Throughout the event, LeGrand Whiskey provided attendees with shots and drinks of their signature whiskey blends. Adding to the ambiance and already lively atmosphere. In doing so, guests were socializing over cocktails while discussing everything from entertainment news to current world events.
As a result, Wayans' guests joined him for an interactive night of laughter and conversation. The food-filled fun allowed all of the guests to enjoy tasty wings, juicy lamb chop lollipops, and other dishes. While toasting with everyone in the room as he prepares to kick off his tour. During its duration of Wayans' first ever podcast pop-up, interviewed by DJ Suss One of The Sherri Show and Kenya Gipson of iHeartRadio, the crowd learned the art of drinking while watching a comedy special. Everyone in attendance enjoyed delectable drinks with LeGrand Whiskey cocktails while experiencing the ambiance of American Whiskey midtown.
Throughout the event, Marlon Wayan proved he is not only a talented actor but also an amazing host.  With this latest screening of his HBO Max comedy special "God Loves Me", he guided his guests through an entertaining evening of conversation and film viewing. The Feature Presentation podcast is well-known for its unconventional approach to interviewing talent from various fields. This live experience with hosts DJ Suss One and Kenya Gipson give viewers an even more personal look into the lives of both hosts and their guests.
Furthermore, The Feature Presentation has been producing exclusive events and continues to bring engaging conversations with talent from all walks of life to our speakers each week. In doing so, they've taken it a step further with this live podcast experience. They create an immersive and interactive experience that brings fans closer to their favorite stars than ever before.
Be sure to stay tuned for more information on upcoming events and new podcast episodes from The Feature Presentation! All content is available on Apple, Spotify, iHeartRadio, and other platforms! Be sure to lock into your desired DSP for all things The Feature Presentation! Lastly, let us know what you think here at Hip Hop Since 1987!
© 2023, alanna. All rights reserved.