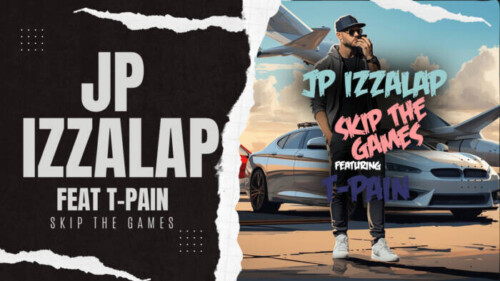 The music scene is ablaze with the release of "Skip The Games," an explosive collaboration between rising artist JP Izzalap and Grammy-winning sensation T-Pain. In a whirlwind 24 hours, the controversial track sparked viral discussions, amassing over a remarkable 100 thousand streams on Spotify. However, its unfiltered dive into modern dating dynamics led to its swift removal from streaming platforms, leaving a profound impact on cultural conversations.
JP Izzalap's fearless approach to addressing power dynamics, gender expectations, and emotional manipulation within relationships through "Skip The Games" has ignited fervent debates. The song's candid lyrics challenge societal norms with raw honesty, fueling dialogues about the intricacies of romantic connections.
T-Pain's iconic voice, harmonized with JP Izzalap's unique production under the self-produced alias PureBread Pro, has birthed a musical experience that resonates deeply with listeners. Their collaboration has not only drawn music enthusiasts but also those captivated by the song's willingness to confront controversial themes head-on.
The controversy surrounding "Skip The Games" mirrors the intensity of the topics it confronts. The song's swift removal from streaming platforms shortly after its release underscores its ability to provoke thought and discourse.
JP Izzalap's audacity in crafting such a provocative piece of artistry has propelled him into the spotlight of the music world. Despite its brief availability, "Skip The Games" stands as a testament to the potent influence of music in igniting conversations, challenging norms, and inspiring societal reflection.
As JP Izzalap navigates the aftermath of this groundbreaking release, his knack for sparking discussions through music is undeniable. "Skip The Games" remains an indelible mark on cultural discourse.
There is a renegade upload of the song that can still be heard, uploaded below. Additionally, there was another track that was included as a bonus but has been removed: 'JP Izzalap – Good Time (feat. Bryson Tiller).'
https://www.youtube.com/watch?v=yU5HAPTEHvc
About JP Izzalap:
JP Izzalap is an emerging artist known for his innovative sound and unapologetic approach to addressing contemporary issues through music. Under his self-produced alias PureBread Pro, he brings a unique perspective to music production. With a rapidly growing online presence and a distinctive voice, JP Izzalap is poised to make a lasting impact on the music industry and beyond.
About T-Pain:
T-Pain is a Grammy-winning artist renowned for his chart-topping hits and distinctive musical style. With a career spanning decades, T-Pain continues to captivate audiences with his talent and influence within the music industry.
Skip The Games Renegade Upload on YouTube
© 2023, AMMPRO. All rights reserved.