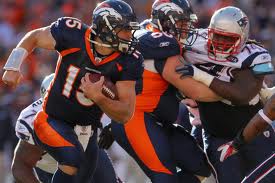 For this one here I'll be short and sweet. Tebow Tebow Tebow.
I see Denver walking out of Foxboro with a 24-17 win. I expect a big rushing game for the Broncos running the rock over 35 times in tonights game. Tebow should pick up were he left off with over 250 passing yards and 2 rushing touchdowns.
Don't get me wrong, Brady will be more than prepared for tonight's match up I just feel tonight is Tebow Time.
© 2012, Eldorado2452. All rights reserved.