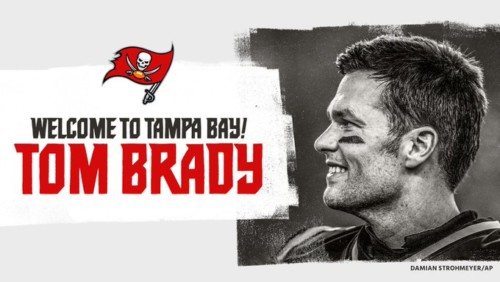 The news that I reported in January is now official. Former New England Patriots quarterback Tom Brady is now the newest member of the Tampa Bay Buccaneers.
🏈 Tom Brady to the Bucs is now official!! (🎨 @flcagency) pic.twitter.com/Kfif4VnFwZ

— Terrell Thomas (@Eldorado2452) March 20, 2020
Earlier today, Tom Brady took to social media to announce that he signing with Tampa Bay was official and that he is excited to get to work with the Buccaneers.
Remember where you heard it first. I can easily see TB12 in TB next year.

If the Bucs don't resign Jameis, don't be surprised if Tom Brady plays in Tampa next year. Road some games, warm weather, good WRs & a good defense #NFL #BabyYoda pic.twitter.com/MLWcAvQLqL

— Terrell Thomas (@Eldorado2452) January 5, 2020
Back on January 5th, I predicted Brady would sign with Tampa Bay based on the young weapons on the team and their great head coach, Bruce Arians. The details of Tom Brady's deal are 2 years, $50 million dollars. The Bucs also wouldn't be able to trade or franchise tag Tom Brady.
Welcome to Tampa Bay, @TomBrady. 😏 pic.twitter.com/VJooGYwwiA

— Tampa Bay Buccaneers (@Buccaneers) March 20, 2020
With Brady in Tampa, the Bucs chances to win the Super Bowl has skyrocketed. It will be very interesting to see how far the Bucs can go this season. Follow @eldorado2452 on Twitter and Instagram for all your sports, music and entertainment news.
© 2020, Eldorado2452. All rights reserved.