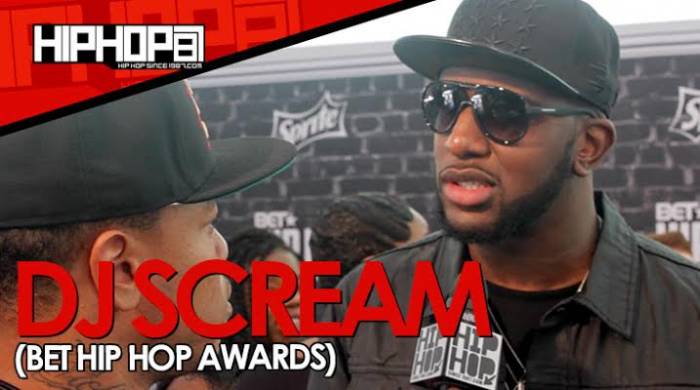 Recently, HHS1987 caught up with Hoodrich/MMG's own DJ Scream to discuss his project "Hunger Pain", upcoming MMG projects and more.
DJ Scream spoke on being excited to see this years 2014 BET Hip-Hop awards and looking forward to seeing what his fellow hip-hop artist and entertainers are wearing to the event. After discussing how only the hottest DJs and hottest media outlets are allowed to check out the 2014 BET Hip-Hop awards, DJ Scream updated us on the progress of his upcoming album "Hunger Pains". DJ Scream let us know he was about 90 percent finished with "Hunger Pains" and that it will definitely hit the streets in 2015.
DJ Scream also spoke on fellow MMG artist Wale's upcoming project "Album About Nothing" and what we can expect from it. With the first single "Body" out in the streets now, DJ Scream informed us that his HPG team could possibly have a few placements on both Wale and Stalley's new projects. DJ Scream also updated us on Meek Mill and Rick Ross' future. DJ Scream let us know that Meek Mill and ready to get back in the street and work and that Rick Ross' new album "Hood Billionaire" could end up being a classic.
Before concluding the interview, DJ Scream elaborated on his HPG team and just what we can expect from him as the year closes out. HPG is a production team formed by DJ Scream that includes DJ Spinz, Childish Major, Dun Deal and others. Having been in existence for nearly three years, HPG has been responsible for hits like, U.O.E.N.O, Stoner, She Twerkin and many more. DJ Scream spoke on HPG and Hoodrich both having the ethics of working hard and creating classic material. DJ Scream informed us that as the year concludes expect his to rock over 100 parties and to keep the airwaves jumping on his Hoodrich radio show on Atlanta's Hot 107.9.
The interview was conducted by HHS1987's Eldorado. The interview was shot by HHS1987's Brian Da Director.
Follow On Twitter/ Instagram:
@DJScream/ @DJScreamTV
@Eldorado2452
@HipHopSince1987
@BrianDaDirector
© 2014, Eldorado2452. All rights reserved.