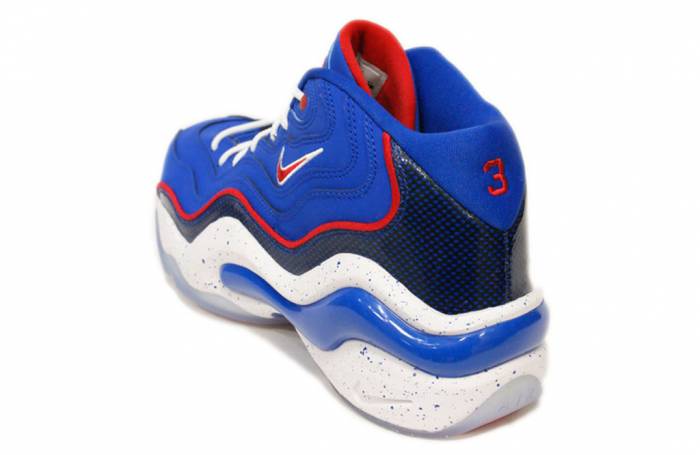 Nike had plans of honoring the career of former Philadelphia 76er Allen Iverson but those plans have been shut down. Nike was set to release the Nike Air Zoom Flight 96 "Allen Iverson" however Iverson himself had the product dropped after reaching out to Nike objecting its release. With Allen Iverson having a deal with Reebok, he wondered how Nike was even able to create the sneakers.
According to AP,
Iverson says Nike used his identity, likeness and persona without permission for a sneaker out of the company's Zoom Flight '96 collection.
The ambiguously titled sneaker has the No. 3 — Iverson's number — on each back heel and the red, white and blue colors of the Philadelphia 76ers. Neither Iverson nor the Sixers are named on the sneaker or on the branding for the shoe, which were expected to be released later this year or in early 2015.
Iverson's lawyer sent a letter to Nike this week objecting to the shoe.
Nike spokesman KeJuan Wilkins said in a statement Thursday that the version of the shoe Iverson protested won't hit stores.
"Nike has made a business decision to not move forward with the shoe in the red/blue and white/purple colorways," Wilkins said in an email. "However, two colorways inspired by the original 1996 colorways will still be available for purchase."
Iverson, who retired last season, has had a shoe contract with Reebok since Philadelphia made him the No. 1 overall pick in the 1996 NBA draft. Iverson's signature shoe, "The Answer," was Reebok's flagship sneaker and runaway top seller during his prime seasons in the late 1990s, early 2000s. And Reebok is getting ready to release a new Iverson version of its iconic "Pump" sneaker.
A letter faxed this week by Iverson's attorney, Derek Challenger, to Nike demands the company remove the sneaker from any retail inventories or website advertisements and cease any future sales of the product.
"Nike is clearly trying to use Allen Iverson's celebrity status and persona to promote Nike's shoes," Challenger said. "There's no other No. 3 that played for the 76ers that came out of the 1996 draft. For Nike to use his status to sell shoes, and not get his permission, to not compensate him, is bad business."
Tonight, Allen Iverson and hip-hop artist Jadakiss are set to launch the Villa x Reebok Pump at Friday's on City Line Ave.
© 2014, Eldorado2452. All rights reserved.