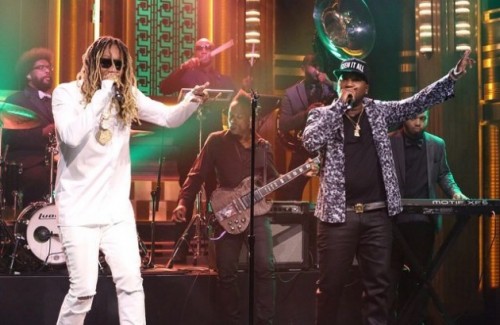 Last night Jeezy stopped by Jimmy Fallon's Tonight Show to perform a cut off his new album, Seen It All, with a little help from Future and The Roots. He dedicated the song to the recently passed Joan Rivers.
We also got an update on his ongoing legal situation. If you missed the news, Jeezy was arrested, and subsequently released on $1MM bail, for possession of an AK-47 while on Wiz Khalifa's UTIOM2 Tour. The true owner of the firearm has been revealed, and Jeezy's arrest is now being questioned.
TMZ reports the firearm belong to the head of Jeezy's tour security. Apparently, the security officer was not present during the arrest because he was in the hospital after being shot in the arm at a club the night before.

There are questions being raised as to why Jeezy was even arrested. According to sources, the rapper was said to be in an entirely different section of the bus from where the AK was found. People at the scene reportedly told the officers the gun was registered to the security guard and that he was hospitalized at the time.
© 2014, @quinelleholder. All rights reserved.