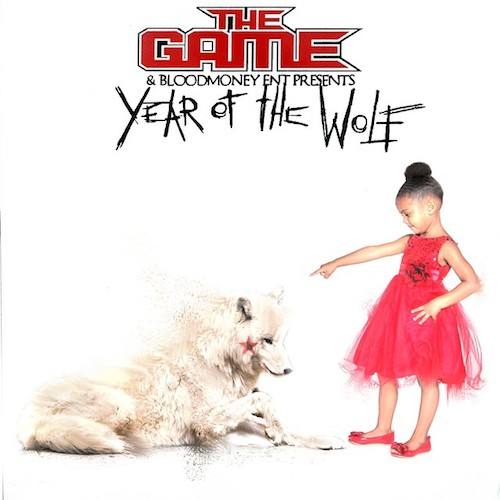 Today, West Coast rapper The Game has unveiled the official artwork and tracklist for the upcoming Blood Money compilation album, Year Of The Wolf. Coming in with twenty tracks, the project is jam-packed with features from T.I., Ty Dolla $ign, French Montana, Problem, Bobby Shmurda, Tyga, Jeezy, and more. Be on the lookout for the compilation dropping October 14th.
View the tracklist below.
1. Bigger Than Me (Prod. Mosley)
2. F You Ns (Prod. Matthew Burnett)
3. Really Feat. Yo Gotti, 2 Chainz, Soulja Boy & T.I. (Prod. The Mekanics)
4. Fuck Your Feelings (Prod. Ocean & Nova)
5. On One Feat. King Marie & Ty Dolla $ign
6. Married to The Game Feat. French Montana, DUBB & Sam Hook (Prod. Boi-1da)
7. The Purge (Prod. Cozmo)
8 Trouble on My Mind (Prod. Pat O)
9. Cellphone Feat. DUBB (Prod. The Mekanics)
10. Or Nah Feat. Too $hort, Problem & AV (Prod. DJ Mustard)
11. Best Head Ever Feat. Tyga & Eric Bellinger (Prod. League of Starz)
12. Hit Em Hard Feat. Bobby Shmurda (Prod. Amadeus)
13. Food For My Stomach Feat. DUBB & Skeme (Prod. Duke Dinero)
14. Black on Black Feat. Jeezy & Kevin Gates (Prod. The Mekanics)
15. Be Nobody Else (Prod. Sap)
16. Mad Flows Feat. Skeme (Prod. ReyReel)
17. I Just Wanna Be Feat. Stat Quo & Sap (Prod. Sap)
18. Take That Feat. Tyga & Pharaoh Jackson
19. Bloody Moon Outro (Prod. Nottz)
20. Time and Space Feat. Grae (Prod. Grae)
© 2014, miixtapechiick. All rights reserved.