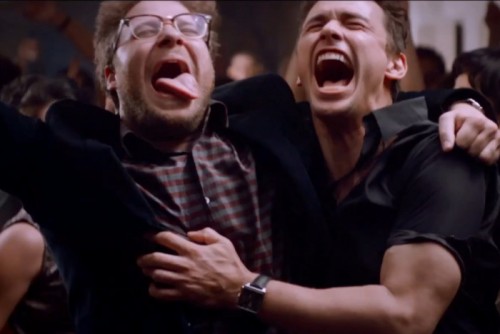 Seth Rogen & James Franco star in probably the funniest movie produced in 2014. "The Interview," which is based on two journalists who are assigned to assassinate North Korean leader Kim Jong-un, almost didn't see the light of day. Earlier this month, Sony faced a cyber-attack by hackers who managed to get into the company's emails & expose information which should have been confidential. Some of the hackers were said to be working with North Korea, which created a real problem as far as the film is concerned.
After getting word about the flick, North Korea threatened to recreate the holocaust in any theatre that showed the film. In response to the threats, Sony decided not to take any chances & pulled the film all in all, despite the fact that President Obama said they "made a mistake' in doing so. Granted the fact that the United States does not surrender to terrorist threats, it hasn't been too many years since the despicable slaughtering that took place in a Colorado theatre in 2012 & so this decision was very sensitive to the previous attack.
A few days ago, two theatres across the nation announced that they would indeed still be showing the movie. This was followed by a statement put out by Sony Entertainment that stated they have renigged on the pulling of the film; "The Interview" will still show on Christmas Day. According to the Deadline, it will only show in limited theaters, fewer than 100.
Chairman & CEO of Sony Entertainment, Michael Lynton, issued an official statement on the situation at hand yesterday:
We have never given up on releasing 'The Interview' and we're excited our movie will be in a number of theaters on Christmas Day. At the same time, we are continuing our efforts to secure more platforms and more theaters so that this movie reaches the largest possible audience.

I want to thank our talent on 'The Interview' and our employees, who have worked tirelessly through the many challenges we have all faced over the last month. While we hope this is only the first step of the film's release, we are proud to make it available to the public and to have stood up to those who attempted to suppress free speech.
After the official statement was released, the stars of the controversial flick took to twitter to display their happiness on Sony's decision.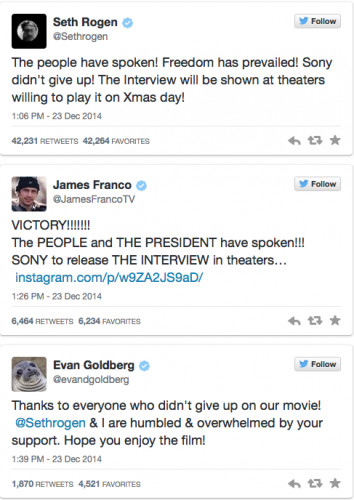 © 2014, Niyah Nel. All rights reserved.