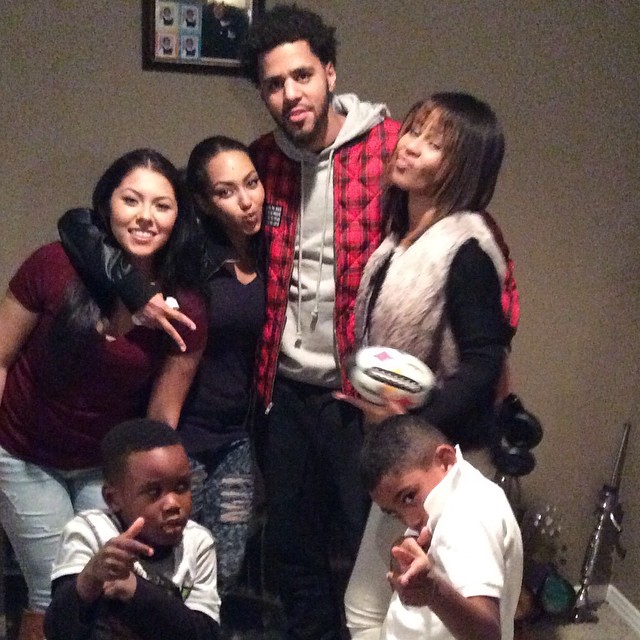 Though hip-hop was originally embraced for delivering the unfiltered truth, detailing the urban experience and giving america's youth a platform to express it's day to day reality, over time those principles have been diluted in favor of the corporate music industry structure; whose ultimate objective always has been and always will be capital gain. However, every once in a while we come across an anomaly with the ability to appeal to the masses as well as uphold the cultures core set of values.
Recently, Dreamville founder J. Cole made his way to Dallas, Texas to give a devoted fan by the name of Dalia an early listen to his 3rd studio album 2014 Forest Hills Drive. The last minute act of kindness was as random and heartwarming as it gets. In conjunction with his recent Dollar & A Dream Tour and the plethora of free projects he's released during the span of his career, the spontaneous act serves as yet another example of why Cole is considered a leader in this over saturated generation of emcees.
Check out the tweet that sparked the epic experience and Dalia's reaction to it all after the break. 2014 Forest Hills Drive (Pre-order on iTunes | Here.) drops December 9th!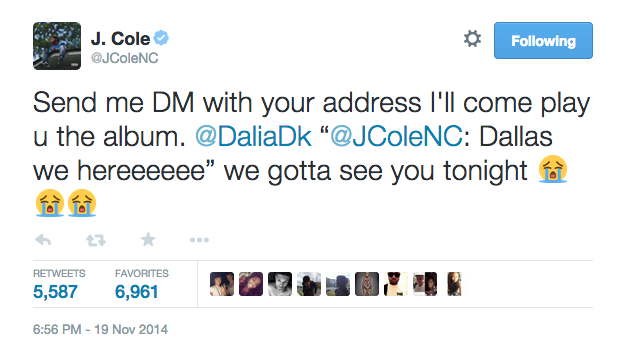 Dalia (@DaliaDk) on the experience:
I don't don't even know where to BEGIIIIIINNNNNNN … OMGGGG.. COLE WAS AT MY CRIIIIIIIBBBBBB!!!! Aaaaaahhhhhhh. ..for a private listening session of his new album dropping DEC 9th #2014ForestHillsDrive and you guys are IN for a TREATTT!!! I freakin LOVED it, you feel them in your soul!!! We always do, but you'll understand when you hear it!!!!! This one is SPECIAL …THIS JUST HAPPENEDDDDD AAAAAHHHHHHH!!!! You guys KNOW how I feel about Cole…I told em he's not even a "celebrity" he's fam!!!!! And THE MOST HUMBLE SOUL EVER!!! Thank you @realcoleworld @kingofqueenz25 .. This literally made my LIFE!!! Aaahhhhhhh no matter what I say, I'll never be able to explain…….. Man!!! I swear my dude is legendary!!! WHO TF DOES ISH LIKE THIS??!! That's why I ride with him the way I do… AAAAAAHHHH
© 2014, @quinelleholder. All rights reserved.