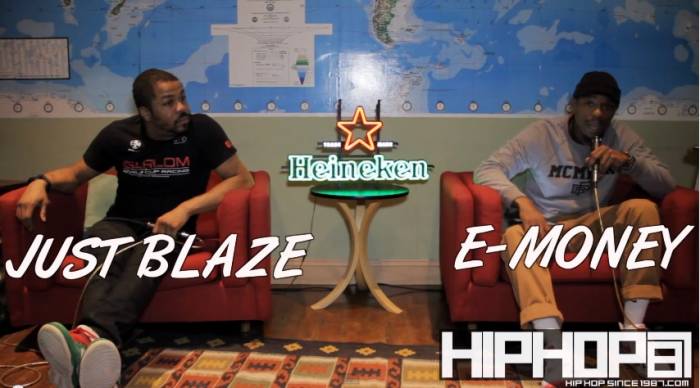 Last week, After DJing an incredible set at Silk City as a part of Heineken's #HeinekenGreenRoom Series, producer and DJ extraordinaire Just Blaze defied the threat of a looming snowstorm to hold court with HHS1987's E-Money before an attentive crowd at Milkboy Studios.
In our three-part exclusive sit down, the legendary beatsmith touched on a number of topics concerning his career including his inspiration to continue producing, dropping out of college in his senior year to pursue record producing as a profession, the difference between his process as a young record maker and his method as a seasoned producer, the importance of branding and marketing himself, as well as his thoughts on how aspiring producers can continue to monetize their craft in an ever-changing music industry.
"At this point I think what keeps me motivated is the fact that I don't have to do it," said Blaze of his continued dedication to his craft even after his storied success. "I was reading this article the other day, some featured piece about me," he continued, referencing a Noisey article highlighting the irritants he's accumulated along with his stardom, "one of the things that they said was, 'You would assume that somebody who's accomplished what Just Blaze has done would ride off into the sunset with a bag of royalty money and call it a day' and I never really looked at it in that capacity but I thought about it and I'm like, 'Yeah, technically I could.' But that fact that I don't have to do it anymore is what makes me happy to do it."
"There was a point when I was scrambling to establish my name, to establish my hustle, to make money, make a mark in the industry where I was just doing beats for anybody and everybody and the end result wasn't always great," Blaze said of his early days in the game. "At this point the name is established, the bank accounts are okay. I don't have to do this to chase a check but that's where the more creative freedom comes into play: where you can just sit back and say, 'Okay, I want to do this.'"
Blaze would go on to describe the arduous task of explaining to his mother, a high school principal with a lifelong dedication to education, that instead of graduating from college he would be dropping out to pursue his career.
"I was on my winter break from my senior year in [in college] and got a chance to intern at a studio only because one of their other interns had gotten sick with a stomach flu and was gonna be out for a week […] but then a few months [later] [I] parlayed that into an actual job and I could sit down and explain to my mother like, 'Hey listen, most people go to college, and if they want to pursue a career they start off as an intern and work their way up. I have that opportunity to do that right now. I need to leave school.' And the reason that conversation was so hard to have with her was because she's a high school principal, so education is her life, so to turn around and tell her like, 'Hey, yeah, that thing you've dedicated the last 30 years of your life to? I'm out,' [was difficult]. […] She said, 'Alright, as long as your happy, healthy, and respectful of others and they respect you in whatever field it is you're going into, go for it,' and I never looked back."
Just Blaze would go on to credit his continued success as a record maker to the change of approach he had as he continued to grow in his craft.
"I think for me where the focus has changed, probably since, I don't know, around 2001, or '02, before I was just focused on making a beat. Eventually, I realized being a producer was not about making a beat; it's about delivering a song. So, whereas before I just wanted something that I could just make crazy beats and be one of the best at doing that, eventually it was like, 'Well, making a beat is cool; creating songs is what a producers job actually is.' So whereas before I used to make a beat and then just play it for Jay [Z] or whoever and just hope somebody wanted to rap on it, the focus became more about, 'What is the visual? Where does this song sit on the album? What part in an artist's live show does this get performed at? If it gets performed at a live show, is the encore song? Is it the intro song? Is it the song to bring the mood down and make things dark?' I started thinking about it from that aspect."
Just Blaze also attributed much of his personal branding and marketing success to the signature soundbite he dropped at the beginning of many of his early hits.
"The fact that I've done the things that I've done like scoring video games, scoring movies, doing commercials, all that came about, basically, because of that stupid 'Just Blaaaze'. Because if you think about it, if I had never put that on records why would a marketing person think it was cool to have me involved with their project? Why would EA Sports call me and be like, 'Hey, we're going to give you this ridiculous six-figure contract to do music for our next three video games'? It's only because on these cool records, which happened to be hot at the time, my name is being said at the top of each record. […] For me it was important because my asthma is bad as hell, so I knew I wasn't going to be on stage rapping or singing. I knew I wasn't going to be dancing in videos so my thing was, 'Alright, what do I do to brand myself and make myself more than just that dude who makes these beats for all these songs?' and it was really that just that dumb 'Just Blaaaze' but it worked."
Check out all three segments of the exclusive sit-down below.
© 2014, @BWyche. All rights reserved.