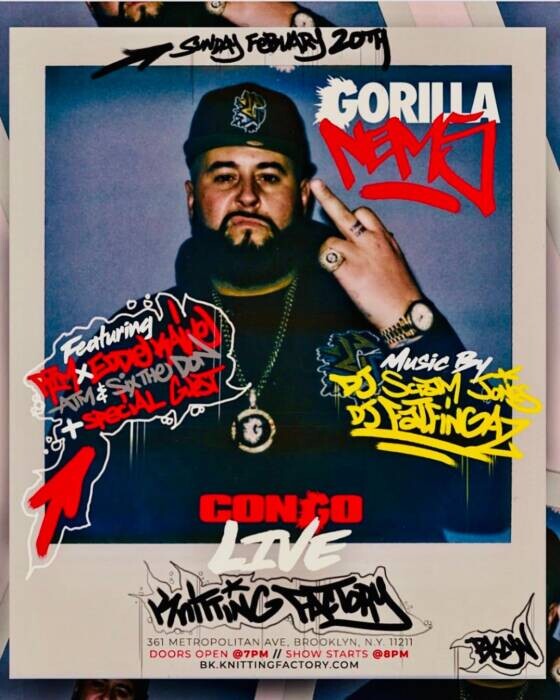 Brooklyn New York Jan. 27, 2022 /PR Music News
Gorilla NEMS is returning to his Brooklyn Roots Sunday February 20th for his highly anticipated Live "CONGO" Concert it was announced this week.  The Coney Island Bred MC and creator of the Million Dollar Catch Phrase "Bing Bong!" is scheduled to perform his Best Selling Album: "CONGO"at "The Knitting Factory" where he will perform tracks like: "Go Fish", "Cousins", "Highly Favorable" "Bing Bong" for the first time. The February 20th Homecoming Show is being presented by "The Knitting Factory" and features RIM, EDDIE KAINE, ATM, SIX THE DON along with special guests. Grammy-nominated producer & NYC Radio DJ Scram Jones is on the upcoming bill as the official DJ for the Williamsburg's Venue Show. The upcoming event marks NEMS first show in New York City since 2019 & his first Live performance on stage following all his recent success including being tapped as the new official host of REVOLT.TV's "The Crew League" Season 3, becoming the official voice & song of the New York Knicks, surpassing 1 Billion views on TIK TOK and having the most viral Headline of 2021: BING BONG! Now Gorilla NEMS is Back in Brooklyn! General Admission and VIP Tickets were made available to the public on January 27th and will remain on sale until the night of the event. Doors open at 7pm, Showtime 8pm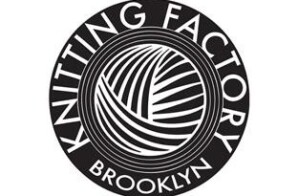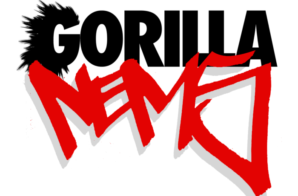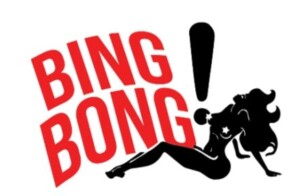 LISTEN TO THE ALBUM BY GORILLA NEMS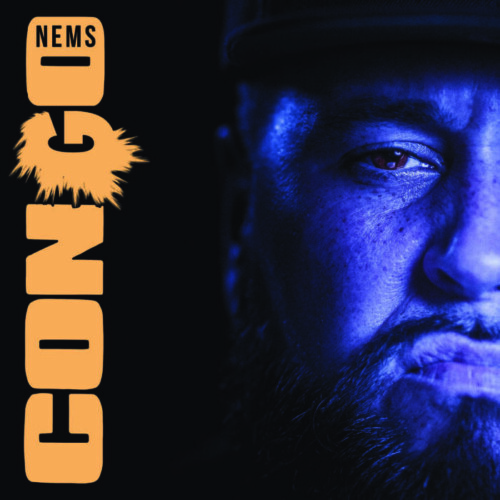 ALL PRESS/MEDIA INQUIRIES: Email: [email protected]
Listen & Stream GORILLA NEMS Music -Click the Live Links Below
BROOKLYN BRED, CONEY ISLAND MAYOR, GORILLA TV, FOUNDER OF FUCK YOUR LYFE EMPIRE, VIRAL BING BONG CREATOR, OFFICAL VOICE OF THE NEW YORK KNICKS, HOST OF SEASON 3 "THE CREW LEAGUE ON REVOLT.TV, MTV2 FIGHT KLUB CHAMPION W/ THE MOST WINS IN THE LEAGUES HISTORY
ABOUT NEMS:
Nems has built a self-made career through authenticity. "I've never had to go out of character," he touts. In 2021, the Brooklyn MC with a respected catalog, decorated battle history, and worldwide FYL merchandise brand created a new wave of attention through trademarking "Bing Bong." The New York Knicks used his catchphrase, and Nems' voice appeared over a billion times on TikTok. He rapidly cultivated a new fanbase that discovered Nems had made great music and videos for years. In a catalog that includes standout releases like Prezident's Day, Gorilla Monsoon, and Gorilla Twins (with Ill Bill), Nems delivered a skillful and revealing album in 2021's CONGO. During his career he has collaborated with the industry's best talent including Benny the Butcher, Conway the Machine, Ghostface Killah, Spit Gemz , Kool G Rap, Sean Price, Q Unique, Jedi Mind Tricks, ILL BILL, Termanology, Statik Selektah, Torae, D12, China Mac and more. With the recent LP, the unofficial mayor of Coney Island has expanded into stand-up comedy, hosting a season of REVOLT's The Crew League, and tripled his social following. Over the past 2 years, his FYL merch brand has become a multi -million dollar Empire. "There are great rappers that suck because they can't structure a song or relate to people. I've survived situations just to let people know that you can make it out; I'm the proof." Those stories and survival tactics are heavy themes in the music. In 2022, Nems is raising the stakes for Beast Music, collaborating with Grammy-nominated producer Scram Jones. For Nems, "Bing Bong" was merely an affirmation. "I'm always gonna win, no matter what."
Website: https://fyl.nyc/
Follow GORILLA NEMS on Social Media
https://www.instagram.com/nems_fyl/
https://www.tiktok.com/@nems_fyl
https://www.facebook.com/NemsFYL/
https://www.instagram.com/fylbrand/?hl=en
https://www.youtube.com/user/NeMsGuTTeR/about
© 2022, Kim Coco. All rights reserved.