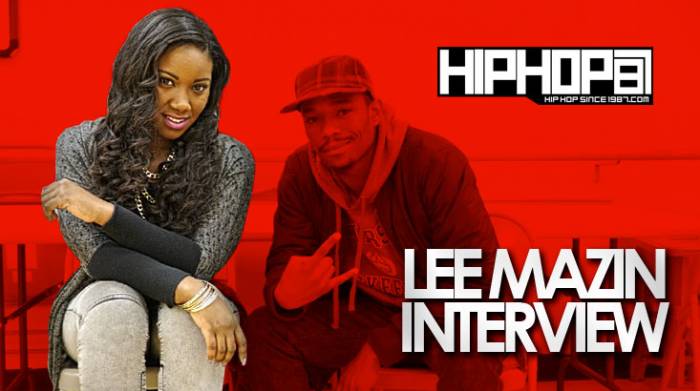 If there's anything more difficult than being a successful male artist in the dog-eat-dog world of Hip-Hop, it's being a successful female artist. The pervasive notion is that there can only be one dominant woman rapper at a time, and the pressure to get the fellas' respect while still accurately representing the fairer sex is a challenging balance to achieve. The young lady that is currently poised to sit atop Philly's fierce femcee scene is Lee Mazin, the South Philly-bred, Dream Chasers representative.
One thing that can definitely contribute to longevity and continued success is soaking up game from those that came before you, and Lee revealed what she's learned from her female mentors in the industry.
"Marsha [Ambrosius] just gives you words of wisdom the whole time while she's around. She's really humble and she's gonna let you know the ins and outs of what she went through," Lee said of the songstress. "[It's] the same thing with Trina. Me and Trina, we do the same thing: we're two female emcees and she's been around for a long time and she still has that same level of respect from the industry and the streets as well. That's 'The Baddest Bitch' and she schooled me on the do's and the don'ts, and what to watch out for, and how to move this way and just really being true to yourself. That's one thing she always tells me, 'Don't let this industry change you.'"
Lee went on to speak about her bond with her Dream Chasers brother-in-arms, the late Lil Snupe, who was tragically murdered last summer.
"I never witnessed nobody be able to spit like that off the top of the head," she said of her fallen comrade, "and he had it in the palm of his hand. And it's weird because when we recorded 'Yesterday', […] I played like 5 different records for him […] and he [was] like 'Gimmie some real life stuff' and I played 'Yesterday' and he [was] like 'Yo, that's the one.'"
Lee continued by describing how their mutual desire to be better inspired Snupe, a notorious freestyler, to write his bars for their collaboration.
"He [was] in the booth and he was 'bout to freestyle. He came out, I was like, 'What's wrong?' he [was] like 'I'm gonna write to this.' I was like, 'Nah just go. You freestyling; you [can] do what you do.' He [was] like, 'Nah Lee, you killed this. I gotta write something.' And he wrote the verse to 'Yesterday'. That was the only time I ever saw him write. […] Just to be around him [was good], his presence was a blessing."
While breaking down her creative approach, Lee Mazin also clued E-Money in on what makes "Blow" different from her previous releases.
"It's produced by Ben Ford […] it was like 4 o'clock in the morning when we recorded it […] It'll throw you for a loop, 'cause when it first comes on your thinking it's gonna be on a slow, R&B type [of song], but when the beat drops you're bopping to it," she divulged of her forthcoming single. "It's different than what I've ever put out before […] we shoot the video for it next week. […] It's my first record that I'm personally putting on iTunes so I'm excited about that, too."
Lee also touched on what features to expect from her upcoming project and how she picks her mixtape titles with the help of her fans.
Check out the first segment of our interview below, be sure to check back for part two next week, and be on the lookout for more exclusive content that you can only find here on HHS1987.
This video was shot by HHS1987's Rick Dange.
© 2014, Dessy Weegar. All rights reserved.