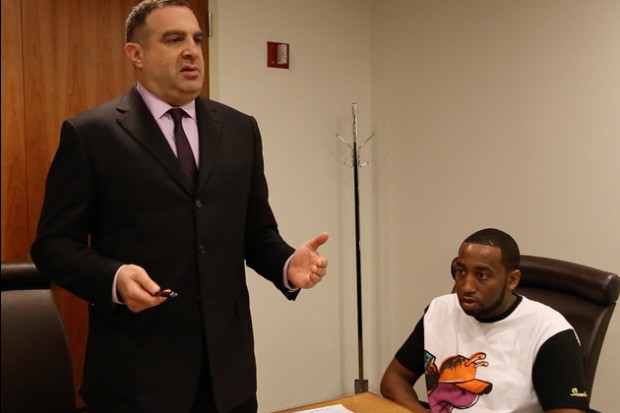 Slowbucks is taking his chain snatching incident serious (watch the altercation here), how serious? Well today he held a press conference at Bostany Law Firm in Manhattan's Trump Building earlier this afternoon. His civil investigator John P. Bostany announced that he is investigating unspecified parties (ie 50 Cent) for assault, theft and brand tarnishment. This is not a lawsuit, he is seeking justice for what he calls an attempt to "hurt his brand." The monetary amount he is seeking is yet to be determined.
Below is part one & two of the press conference as well as some quotes.
Checkout Slowbucks 2013 interview with HipHopSince1987 below.
They know he is the founder of Slowbucks, the #1 urban brand on the rise today. They want to hurt that brand and they are trying to hurt that brand we are going to put and end to that. We're here, I'm a Trademark attorney, I'm a copyright attorney and I fight unfair competition.

I looked at the videos and I heard 50′s interview on [Hot] 97 by Angie, who did an excellent job. Questioning him and I heard his responses and his demeanor. If you look at him he says 'oh I was looking at the crowd.' I didn't know what was going on behind me. I was happy that day.' But if you look at him when he's telling that story, he doesn't look happy. He doesn't look like he want to talk about it. If you look at the videos, every single one, whether he's the one picking up the chain or not is irrelevant. His body is facing what's going on and the he turns around, in the middle of it all, and faces the crowd.

He had the courage and the strength to come here and remind everyone that no matter how rich or powerful some might become, how popular they may be, they still are not above the law.
© 2014, @BWyche. All rights reserved.