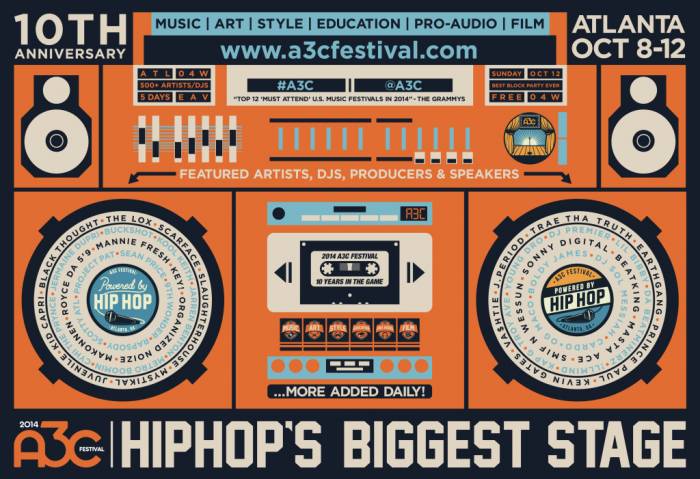 Atlanta is preparing for the 10th annual A3C festival from October 8-12 and HHS1987 is ready to help you experience a week in Hip-Hop like we have never seen. With A3C gearing up to bring 5 days of concerts, panels and networking here in Atlanta, HHS1987 and A3C have teamed up to give you a chance to win two all access passes to A3C 2014.
HipHopSince1987 is giving away two all access pass to this years 2014 A3C Festival. The winner wil be selected on October 1st and the contest winner will win passes to the event. the contest winner will be responsible for travel and hotel cost if they travel from out of town. HHS1987 will not include travel and lodging in this contest. Contest details are below.
Post a 15 sec video on Instagram rapping, singing or quoting poetry explaining to us why you need to attend A3C 2014 and  tag @Eldorado2452 in the video for a chance to win.
You also Follow @HipHopSince1987 & @Eldorado2452 on Instagram and post the following:
Please Follow  @Eldorado2452 and @Hiphopsince1987 on Instagram and Twitter and here is why I must be at A3C. 

We will pick winners based on the rules above on October 1st at 12 Noon eastern standard time. The winner will be notified via email, so when you leave a comment please enter the correct email address. Good luck!
© 2014, Eldorado2452. All rights reserved.