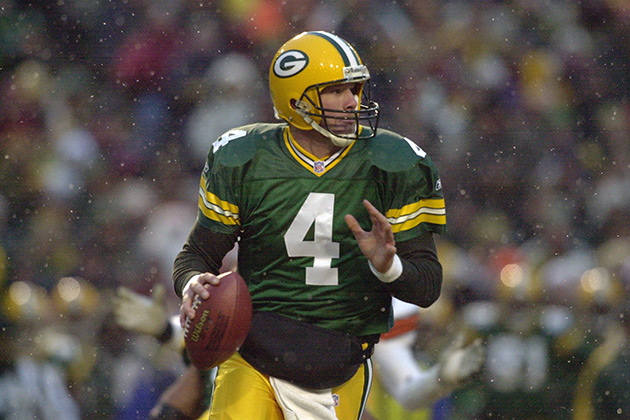 The greatest Packer of this generation is set to have his jersey retired and be inducted into Packers hall of fame. Former Green Bay Packers quarterback Brett Favre will have his number 4 retired in the year 2015.
According to Packers.com:
The Green Bay Packers Hall of Fame Inc. announced Monday that it will induct former Packers quarterback Brett Favre at the 45th Hall of Fame Induction Banquet, to be held the evening of July 18, 2015. The event also will feature the retirement of No. 4 by the Packers organization. Favre's name and No. 4 subsequently will be unveiled inside Lambeau Field on the north façade during a ceremony at a to-be-determined game during the 2015 season.
The joint announcement took place at the site of the new Packers Hall of Fame, currently under construction in the Lambeau Field Atrium and set to open in 2015. The announcement was made by Packers Hall of Fame Inc. President Perry Kidder and Packers President/CEO Mark Murphy. Bob Harlan, a member of the Packers Hall of Fame Inc. executive committee and chairman emeritus of the Packers, also was on hand. Favre joined the announcement via telephone.
"We're very pleased to announce we will induct Brett Favre, one of the Packers' greatest players ever, into the Packers Hall of Fame," Kidder said. "The event will mark just the sixth time in our organization's history that a single person will be inducted, fitting recognition of his elite contributions."
© 2014, Eldorado2452. All rights reserved.