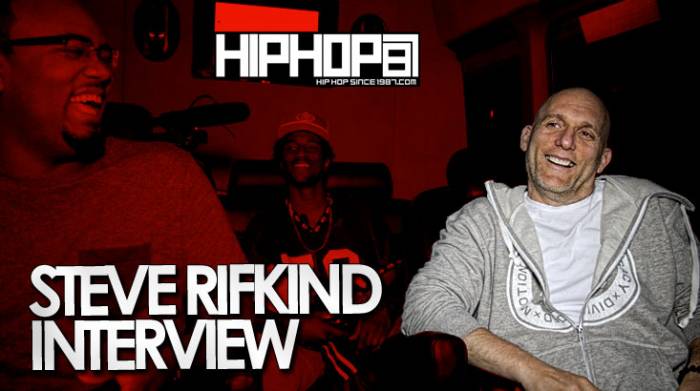 Here is HHS1987's exclusive with groundbreaking record label executive Steve Rifkind. While in Philly with partner Russell Simmons to announce the signing of Tayyib Ali, Rifkind sat down with our very own B. Wyche to discuss Ali and all the artists signed to his All Def Music  imprint, the pros and cons of 360 deals, the role artist branding plays in connecting with fans and much more. 

Rifkind has a long history in Hip-Hop, discovering acts such as Wu-Tang Clan, Big Pun & Mobb Deep, and pioneering the Street Team promotional model. After a sabbatical from the industry, Rifkind says his friendship with Def Jam founder Russell Simmons brought him back to music when the latter asked him to be a part of his newly founded All Def Digital media company. 

"(Russell Simmons and Brian Robbins) asked me to come on (All Def Digital) and I said, 'There has to be a music company component to this side of things.' And then my vision was actually also a little bit different than their vision but it's actually perfect because we all stay in our lane and just do what we feel has to be done for the company." 

Although he's a self-admitted "record label guy", Rifkind has strong feelings about the now-popular concept of 360 deals. 

"Im against it," he admitted, "If you wanna have a 360 deal with an act and you wanna have (a share of) management and you wanna have (a share of) publishing and you wanna have (a share of) merch, do something where you can really be a manager, do something where you can really be a publisher and do something where you can really do some merch. Just don't fucking take it because you're spending millions of dollars in marketing […] you don't deserve a fucking piece of (everything) just because you're spending millions of dollars in marketing." 

Although he made his mark working with and leading major label recording companies, the newfound popularity of the independent blueprint is not lost on Rifkind and he pinpointed strong artist branding as the launch point for indie success. 

"They're brands […] Nipsey [Hussle]'s been around L.A. for a long, long time and you can't stop word of mouth. He can do the numbers he's doing […] because his movement on the street can do something. Beyonce and Jay [Z], they're a brand and whether you like the record or not that's why it worked for her." 

Steve Rifkind also discussed his ADD-52 initiative and what in his personal life he would do differently, as well as his advice for entrepreneurs looking to make a unique impact on the entertainment industry and much more. 

Check out the interview below and be on the lookout for more exclusive content that you can only find here on HHS1987.
© 2014, Dessy Weegar. All rights reserved.