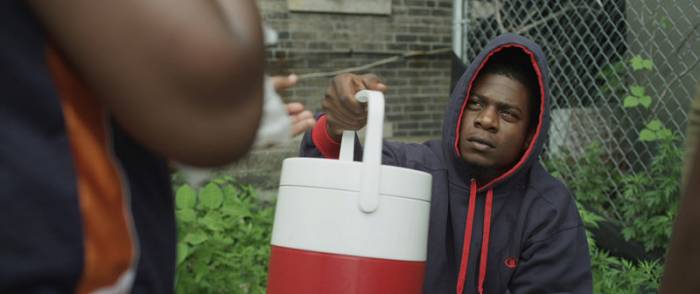 We're in the final stretch of the season but in the Windy City of Chicago, continued gun violence made for another hot summer in the midwest. Chi-town native Mick Jenkins, who's built a reputation of making compelling visuals to match his gripping rhymes, continues his streak of theatrical efforts with the video for "Jazz", the latest release from his upcoming The Water[s]. The effort, due for release on August 12th, is set to further the Cinematic Music Group signee's grassroots campaign and cement him as one of his city's hottest commodities.
Check out the video below.
Bonus: Here The Water[s] updated track list
1. "Shipwrecked" f/ The Mind (Prod. by ThemPeoples)
2. "THC" (Prod. by THC)
3. "The Waters" (Prod. by High Klassfied and Da P)
4. "Healer" f/ Jean Deaux (Prod. by Dream Koala and OnGaud)
5. "Comfortable" f/ No Name Gypsy (Prod. by Cam for J.U.S.T.I.C.E. League)
6. "Vibe" (Prod. by OnGaud)
7. "Jazz" (Prod. by OnGaud)
8. "Black Sheep" (Prod. by Statik Selektah)
9. "Drink More Water" f/ Ebony (Prod. by Spacetime)
10. "Canada Dry" (Prod. by J Money)
11. "Who Else" (Prod. by TJ Osinulu)
12. "Dehydration" f/ The Mind (Prod. by DJ Dahi)
13. "514" (Prod. by OnGaud)
14. "Martyrs" (Prod. by OnGaud)
15. "Jerome" f/ Joey Bada$$ (Prod. by Kirk Knight)
© 2014, @BWyche. All rights reserved.