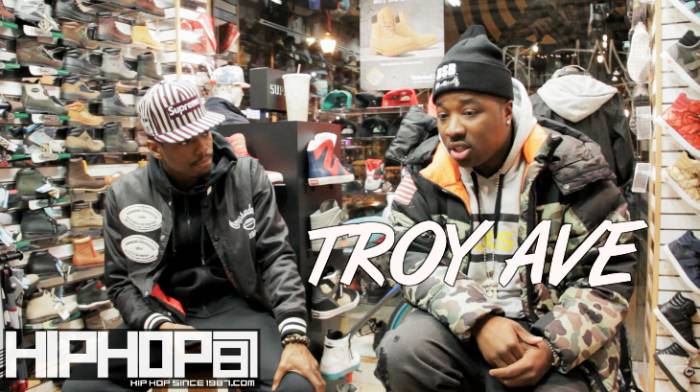 Here is part three of HHS1987's interview with Brooklyn rapper Troy Ave. The burgeoning emcee sits down with HHS1987's E-Money to talk about the prospects of signing with an established New York artist, solidarity within the new generation of New York artists, his deal with Adidas, and his biggest risk in the rap game.
"I don't got no problems with nobody […] people could make records with each other and have a big fucking kumbyeya if you want, [but] I came here to win," Troy said in regards to the perceived competition between the new class of New York rappers and with rap music in general. "I came here to be that nigga […] if [they need me] on a record I'll do it or whatever, but be clear: I want to be that nigga. […] I don't want to be fucking McGrady, I want to be Kobe. […] The goal is to be better than the next nigga. The goal is to be great."
In keeping with the Kobe comparison, E-Money made sure to inquire about a brand that the 17 year veteran represented early on in his career and that the Brooklyn upstart represents now: Adidas.
"I'm Team Adidas all day," Troy stated. "Adidas was just a brand that I always loved. Hopefully we get a Troy Ave sneaker. […] They're ahead of the race with all the brands too […] they had the foresight to say 'Yo, he gon' be the god, we need to fuck with him now,' and they took a chance and it paid off."
Check out the third and final segment of our interview below and be on the lookout for more exclusive content that you can only find here on HHS1987.
This video was shot by HHS1987's Rick Dange.
© 2014, @BWyche. All rights reserved.