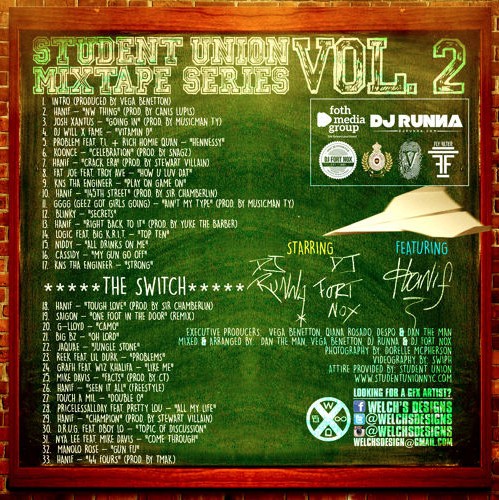 Portland to Harlem transplant, rapper HANiF (fka Luck-One) currently touring with Pete Rock and Slum Village headlines the second volume of the Student Union Mixtape Series, hosted by NYC's DJ Runna (Swizz) and DJ Fort Nox.  The mixtape features 8 unreleased tracks from HANiF including the head-knocking banger Crack Era – a concept song inspired by the realities of the late 20th century drug trade with what HANiF calls "the contrived, caricature that is its current portrayal",  features  Trafek of Bad Habitat and production by Stewart Villain.
Listen below.
Continuing the lineage of timeless MCs who at once rep a region and transcend geography–Tupac, Nas, & more recently Kendrick Lamar—is epic up-and-comer HANiF. HHS1987's Niyah Nel recently caught up with the enigmatic and versatile MC. Check out the dialogue to their conversation below & be sure to give his latest project 12 Inch Vinyls here.
Niyah Nelson– You're currently touring with a Hip-Hop legend, Pete Rock. What does it feel like to grace the same stages & be around that type of energy?

HANiF– It's dope, I'm just grateful and staying humble as I can. At this stage of my career, these are the types of co-signs I need. And with the new project being a throwback themed concept it couldn't have been a better pairing.

Niyah Nel– How have the fans reacted to you & your new "12 Inch Vinyls" project while on tour?

HANiF– The response has been crazy. We sold out of discs last night in Vegas, I had to place an order for another 500! Good problems to have I guess. It's crazy though, I didnt even think they still bought cds like that! Everything is a learning experience.

Niyah Nel– Explain the concept of your project

HANiF– It's a Golden Era themed EP. I guess I just feel like alot of what I hear these days in the 90s esque vein is just really trite. Like, Boom Bap redone but worse… haha. I took it as a personal challenge to try and come up with a better blueprint for that sub-genre, even though it's not a sound I'm really known for. I feel confident that I've given it the appropriate update.

Niyah Nel– Who has been some of the biggest influences on your artistry & the way you approach your music?

HANiF– The answer is absolutely my father. There are alot of musicians I like and listen to but as far as an influence is concerned, particularly in regards to my approach to the music, my father has been the main one. He was a musician in his earlier years as a trumpeteer, but the greatest impact came from his disciplined and focused approach to everything he did. His tutelage in that regard is what kept me going through some of the rougher times I've had in this game.

Niyah Nel– Along with you currently touring with Pete Rock & Slum Village.. You've also hit the road with artists like Macklemore & Ryan Lewis. I know you've accumulated some crazy "tour stories" in your journey. Elaborate a bit on some

HANiF–  Don't put me on the spot! lol! You gotta follow me on snapchat for that haha (@Luck Wonder).

Niyah Nel– I saw that you were a huge fan of 2pac as well of the game of chess.. That speaks volumes about your intellect. With that being said, what are some of the ways you intend to impact the Hip-Hop culture?

HANiF– I feel like if I can just give people enough of a vignette into who I am via my presence in the industry, then the needed impact will present itself. I dont have any grand designs on imposing myself on the culture. I mostly just have shortcomings within myself that I see manifesting themselves in society at large. It's actually dope that you mention chess because that's the perfect analogy. When you study chess theory you come to understand that, in an opening of a game for instance; it isn't about thinking up a sixteen move combo to establish checkmate, it's about laying the foundational building blocks that are the corollary of sound chess principles. By playing niether offensively or defensively, the combination presents itself and victory becomes the inexorable endpoint. Watch what I'm about to do.

Niyah Nel– Who are some of the artists you hope to work with in the future?

HANiF–  Looking forward to working with Kanye, and possibly Pharell. At this point I feel mostly interested in working with producers. Rap-wise, me and my homies got it locked haha.

Niyah Nel – What can fans expect from Hanif in the future?

HANiF– The actualization of a complete paradigm shift in all things musical.

Niyah Nel– Anything you want to leave off with?

HANiF–  Peace to the righteous.
Follow HANiF on twitter, @therealhanif.
© 2015, Niyah Nel. All rights reserved.