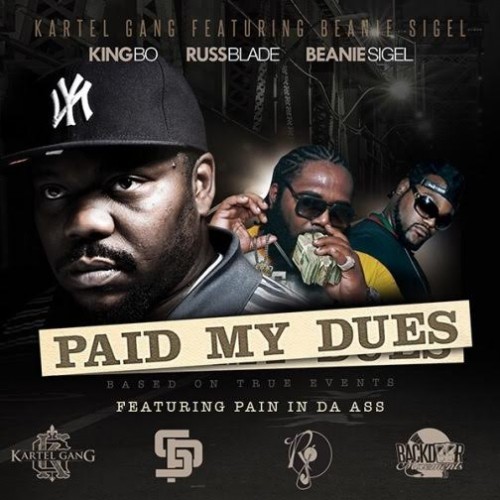 After debuting this morning on Rap Radar and NahRight, Kartel Gang unleashes their new song "Paid My Dues" ft Beanie Sigel. While Broad Street Bully verses are few and far between Beans drops a gem on this Kartel Gang (King Bo & Russ Blade) joint produced by Saddomz Kushington and Intro by Pain in Da Ass known for his work with Roc-a-Fella skits for Jay-Z and others. 
If you like this be sure to check out Bo & Blade standing tall on their DJ Kay Slay hosted mixtape currently available for online listeners via DatPiff and Audiomack.
Featuring the songs "I'm Dat Nigga" ft Uncle Murda and "3 Man Weave" ft Fred the Godson  the guys tag team their way through a project that is meant to feed the streets while they cumulate the content needed for thier soon to be released and yet to titled EP. 
 

We just want to get to the level we want to be at.  In our area of the city we've built the anticipation for each release, now we're just taking a step closer to our goals of building the buzz throughout the city. We're feeding the streets after their call for the tape, and its making an impact for this run. This new tape backed is by Backdoor Movements management Smit "BDM" all the way so we've been getting some great looks, King Bo explained. 
Listen below.
© 2015, Niyah Nel. All rights reserved.