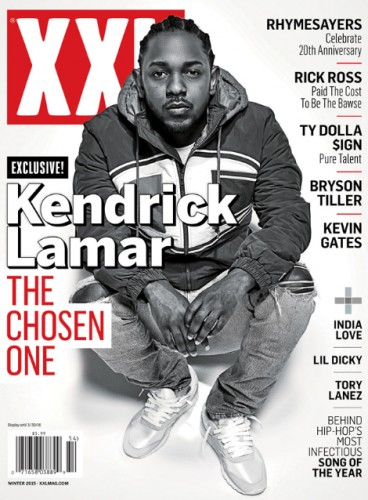 K Dot posts up like a G in his XXL cover for the Winter 2015 shoot inspired by the famous photo of Tupac Shakur spitting at the paparazzi in the '90s. In hsi interview, Kendrick speaks on both success and controversy surrounding his highly-praised To Pimp A Butterfly, adjusting to fame and more in the new issue hitting newsstands December 22.
Before it's available for retail, you can read an excerpt and watch a behind the scenes of his shoot below.
I know I'm chosen. I know I'm a favorite. I know in my heart there's a whole other energy and leadership side of me that I have probably run from my whole life. How much power do I want? How much can I handle? That's the question I keep asking myself. 'Cause when you are a voice for the youth, nothing can stop you. The youth is what changes things. Can I lead that? Should I? I get confused because people are championing me to be that vocal point and it's a challenge for me to be that because I have some fear of that type of power. This goes back to me being who I naturally am or who think that I am now, that 28-year-old kid that's kind've a recluse. But 28 is old enough for me to figure out who I am and have that power at the same time, that's the battle and it's a trip.
© 2015, Oktane. All rights reserved.