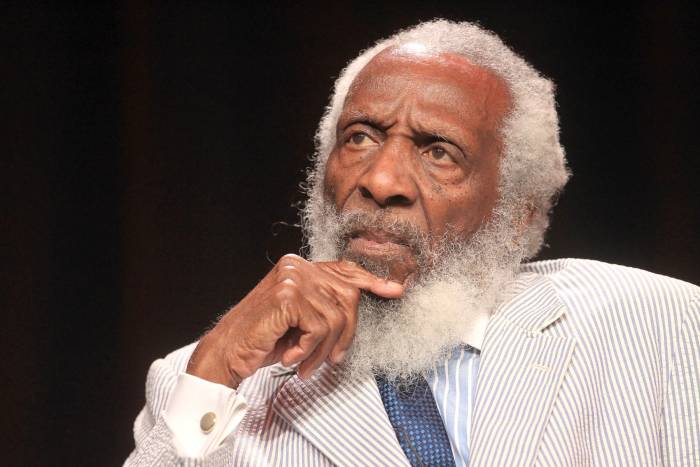 Comedian and civil rights activist Dick Gregory is set to join the best of the best to do it in the entertainment world by getting a star on Hollywood's "Walk of Fame". Dick Gregory will be receive his star next month on February 2nd.
According to Afro.com,
Gregory's career, which began in the mid-1950s while he was in the Army, has stood the test of time. By 1962, Gregory was a nationally-known headline performer, selling out nightclubs, making numerous national television appearances, and recording popular comedy albums. Known as the first African-American satirist, Gregory, now 82, broke away from the minstrel tradition and opened the doorways for Black comedians such as Bill Cosby, Eddie Murphy and, most importantly, Richard Pryor. "Dick Gregory is the godfather of comedy" and a "groundbreaking entertainer," said activist and radio host Joe Madison. 

During the Civil Rights Movement, for example, Gregory joined Dr. Martin Luther King Jr., the Student Nonviolent Coordinating Committee and others to fight segregation and disenfranchisement in the South. He joined the SNCC in its voter registration efforts, marched, participated in sit-ins and was even jailed. According to his biography, when local Mississippi governments stopped distributing federal food surpluses to poor Blacks in retaliation against SNCC's voter registration efforts, Gregory chartered a plane to bring in several tons of food. Over the decades, the comedian-activist has supported a range of causes including healthy living, opposition to the Vietnam War, world hunger, drug abuse, crime and suspected corruption in the CIA and other government agencies; he has fought for Native American fishing rights in Canada and the United States and sought to change the name of Washington, D.C.'s football team.
© 2015, Eldorado2452. All rights reserved.