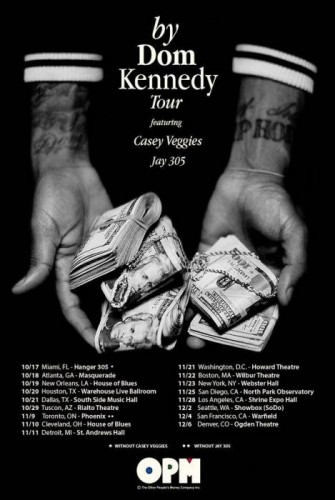 Reporting live from the underground, Dom Kennedy is a West Coast favorite to many, and has earned his stripes a seasoned emcee and songwriter with a cult following over the years. I had a chance to see this man perform in D.C. for the annual Trillectro Festival, and witnessed firsthand the impact he's made with fans singing words bar for bar. Dom recently unleashed his surprise project Best After Bobby Two, and before that it was his official album by Dom Kennedy to set the Summer off like he usually does. Now, Dom is taking his act on the road along with his OPM partner Jay 305 and his "little youngin" Casey Veggies kicking off in Miami, FL on October 17th and ending in Denver on December 6th.
Check out the flyer and tour dates in the pic above to see if Dom and OPM is coming to a city near you!
© 2015, Oktane. All rights reserved.