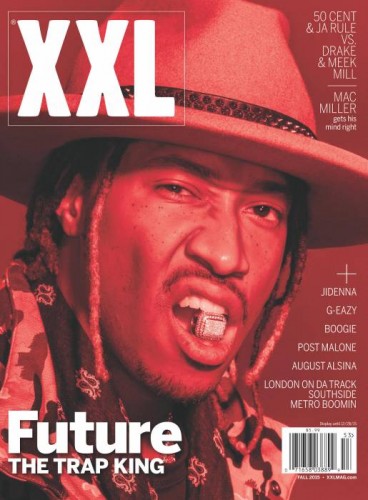 Will this man's reign ever end? It doesn't look likely. Every time we think he's given us enough to hold us over for a bit, he strikes again! Future Hendrix returns today with another power move as he lands the cover of the latest issue of XXL Magazine.
Just a few days ago after teasing fans with the possibility of a joint project with Drake entitled What A Time To Be Alive, he & OVO's own released the mixtape via iTunes. This project is slated to serve as Hendrix's first ever platinum release, without any singles.
In his cover story, Future talks the rocky road he endures with Ciara, being caught in the middle of the Drake vs. Meek fiasco, & more. See below for a few quotes pulled from the feature as well as a behind the scenes look into the cover shoot. #FutureHive going crazy!
On some real shit, I love Meek. And the Drake situation, I feel like genuinely we've been building a great relationship over these years. We got history together. We went on a few tours together so it was like, publicly, some things was said and it was took out of context. And even with the situation coming out, we put it all behind us, went on a sold out tour and we built from that and I feel like it's genuine, it's authentic and we built trust between each other. So with trust it's just bringing us closer because in this industry, as you get bigger, I feel like you lose trust for everyone around you. You feel like the people you come in contact with, you can't trust them. So I feel like it had to happen over years, that couldn't happen over a few months. -Future
© 2015, Niyah Nel. All rights reserved.