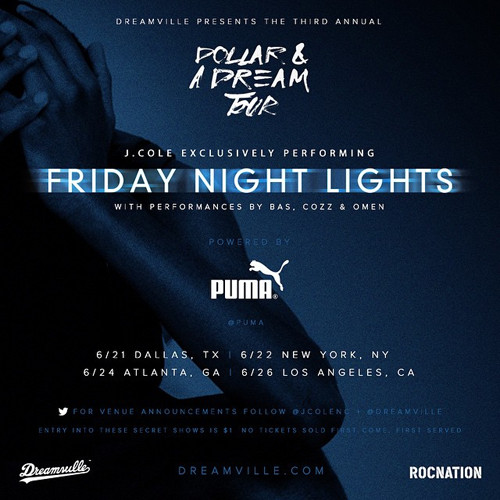 Cole has a monumental show coming up soon he's calling the "Hollywood Act" featuring BIG, YG, & Jerimih–which is the last act he'll be coming back from, as he's taken a break from the "Forest Hill Drive Tour".  In the midst of touring, he'll be hitting a few select cities for his six-year anniversary celebration of his 2009 hall-of-famer, Friday Night Lights. 
New York, Los Angeles, Atlanta, & Dallas are the 4 shows that will get the special night with Cole & his full performance of his official tertiary project. Being a show presented by his ongoing "Dollar & A Dream" Tour, the show will only cost $1 dollar. Special performances will be made by his compadres, Bas, Cozz, & Omen for featured hits.
Stay tuned for more tour details as they surface.
© 2015, Niyah Nel. All rights reserved.