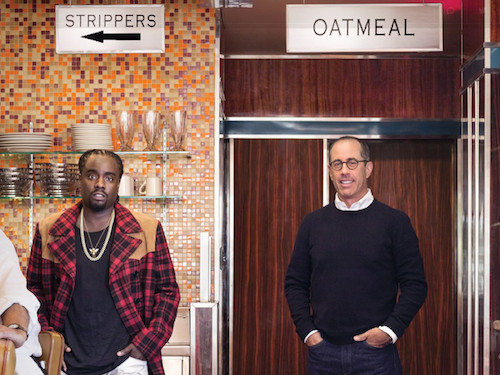 Jerry Seinfeld has had countless successes and thanks to his wife, he can add being involved in making a #1 album to the list. The comedian recently opened up about linking with Wale for The Album About Nothing saying that his wife is a fan of the rapper and "plays his music in the house all the time." He explains,
I don't spend much time putting together playlists, but that's what's nice about being in a family is people just inflict it on you. I absorb it that way.So I had heard his name and then he came to a show and asked if he could say hello, so he came backstage. I thought he was a very charming young man. And then I heard about the mixtape, and he came up with the idea of doing the whole album. It just felt so offbeat and that's what appeals to me.
Seinfeld also told the NYTimes about why he decided to give Wale a chance when tons of fans have attempted to keep "Seinfeld" going in more ways than one. Jerry spoke on what set the rapper apart from the others who came before him saying,
This guy's a real artist and I thought he would be inventive and creative with it as opposed to just pilot fishing, as I call it. You know how that little fish hangs onto the shark and just goes for the ride but doesn't do any of the work?
Later on in the interview Jerry says that Wale and co like to drink champagne in the studio which he found "insane" so he did not partake in consuming it. During the album, Wale calls Jerry his "conscience" and he shed some light on what guidance he gave him revealing,
Young people who become successful like that very young — which I wasn't when I was young — these forces are very potent and challenging to them. I love talking about managing a public image. I was older when it happened to me — I was in my late 30s, so I think it was easier for me to see what was real and what was just perception.
Seinfeld also recalled the time he and his wife were invited on Kanye West's tour bus saying,
I've known Puffy for a long time. And I met Kanye a few weeks ago. He was very nice. It was at the "SNL 40" thing. We were in the garage and we were all freezing. He invited Mrs. Seinfeld and I onto a bus that he was in. He seemed like a nice young man.
Read the entire interview here.
© 2015, Julie Aly. All rights reserved.