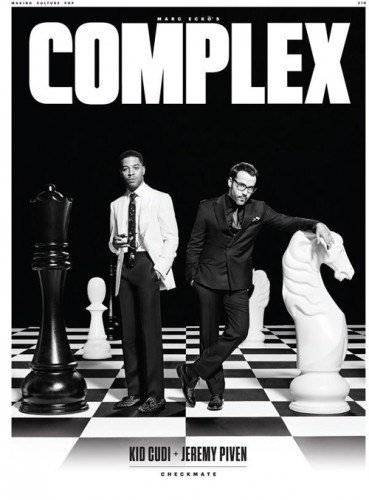 With one of the most highly anticipated films of the summer hitting theaters June 3rd, Entourage stars, KiD CuDi & Jeremy Piven, grace the cover of the June/July issue of Complex Magazine.
Starring as characters Allen and Ari Gold, the duo sat with Joe La Puma to talk about the upcoming film, the real hollywood lifestyle, the difference points of views between actors and rappers, their new found friendshi, and much more.
Read an excerpt from the interview below.
You represent two different generations in Hollywood. Cudi's getting in now and, Jeremy, you've already experienced so much. What do you think the biggest difference is between your Hollywood and his?

JP: We've definitely come up in different times. I've never experienced a weirder time to be famous. I think it's never been less cool to be famous than right now, because you've got a group of people, and you don't know what they contribute. Yet they're taking victory laps; they may be acting out on reality shows. Throwing breast milk at each other, making a great deal of money. So that's awkward, and strange. There's a lot of attention being paid to that, and people getting shots for reasons other than…
KC: —artistry.
JP: I came up in a time where you could do a lot of things under the radar. Now, everything is documented. Cudi's different froms the rest of the people in this generation, because he really can be humble. He's willing to learn, and grow, and get better. A lot of people of this generation don't have that patience. They want to blow up now.
You can read the full cover story here.
Check out the behind the scenes footage below.
© 2015, miixtapechiick. All rights reserved.