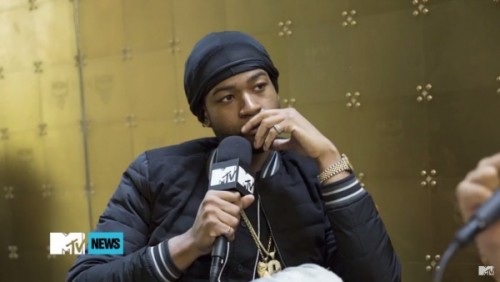 Since his emergence onto the scene with his self-titled mixtape in 2013, PARTYNEXTDOOR has been virtually unseen in public and quiet with the media. Back in April, the The Fader got the first-ever interview with rising star and  OVO Sound singer-producer. Last night, the 21 year old from Canada sat down with MTV News' Rob Markman before performing at the MCM x Beats By Dre event in New York City's SoHo district.
The two sit down and have a discussion on an array of topics including his creative and recording process, bring a private person, R&B influences and inspiration behind songs such as "Let's Get Married,."  He also set the record straight on his rumored relationship with R&B singer Kehlani, and his connection with Drake.
Here's an excerpt of the interview below:
On Drake: "He lets me do whatever I want to do, and he accepts it and he understands it a lot. Us being from very similar places, he really understands the things that I say. The lingo that we have, the culture that I was raised in, he could understand because a lot of his friends are Jamaican. I was raised in a Jamaican household, all my friends are Jamaican. So we just relate a lot culturally. It helps when a superstar that's making number ones, number ones, number ones, actually understands you."
Read more below.
Continue after the jump…..
MTV: "This is a rare occasion; you're a very private fellow. Why is that? Why in this day and age do you find that you like to keep things to yourself when everybody likes to share so much?"
PARTYNEXTDOOR: "All I care about is the music, that's probably why. Me and Tyler, my friend, we were talking about this on the way here. It's just a lot of extra sh-t that people do that I don't think is necessary."
MTV: "You know a lot about collaborations, and it's funny, because I feel like you carefully choose your own collaborations. There aren't many people that can say they have a track with PARTYNEXTDOOR. What makes a good collaboration to you?"
PND: "A blend of vibes. I think it's cool to do songs with people that like — it has to be a contrast, you know? Bring something new, mixing their vibe with mine and creating a completely new vibe. I'm just very picky for those reasons."
MTV: "Tell me, what's a PARTYNEXTDOOR recording session like, if you could describe it?"
PND: "I work on a lot of things at once, like I flip through sh-t. My mind works so fast and I have so many ideas, so I might write something down in my phone that might work better for another song that I was working on. So, everything's like a puzzle to me and I like to figure out things on my own, be in my own state of mind and have clarity."
MTV: "You obviously write your own material and produce your own material. Are you recording your own sessions? Are you engineering, as well?"
PND: "Yeah, yeah, I record and engineer, in Beats headphones."
You can listen to the audio from the interview below! Don't worry the video isn't frozen, just a bunch of freeze frames.
© 2015, Oktane. All rights reserved.