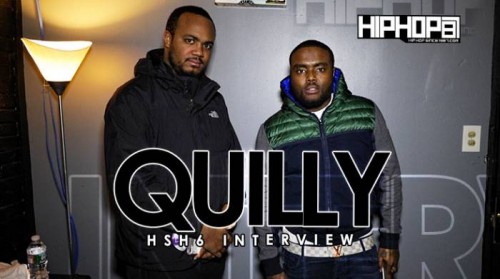 HHS1987 catches up with Quilly at the TLA where he was preparing to open up for Lil Durk. We asked him about the success on his "Real One" single. He mentioned the record getting spins on Philly's Power 99, Wired 96.5, NYC's Hot 97, Power 105.1 and more. He mentioned the record has led to him getting booked for more shows, more fans, being able to move around outside the Philly area and more. He talks about being up NBA All Star Weekend in NYC and running into a ton of other artists.
Quilly recently opened up for 50 Cent here in Philly and he explained that. He mentioned he is not signed to G-Unit, but he maybe opening up for 50 Cent in a few other cities. We also talked about his photo with Meek Mill that they took on New Years Eve after years of beefing with one another. He discussed not seeing no benefits from beefing with another artist, and encourages any rappers who inspire to diss one another to join battle rap.
Quilly also talks about releasing his new Haines Street Hustler 6 mixtape one month after releasing his Quilly 2 project. He explained he was caught up chasing a single, and HSH6 is him not chasing a single. Overall he planned on going back to his Haines Street Hustler roots and pleasing his fans.
This interview was conducted by HHS1987's B. Wyche and shot by Rick Dange.
DOWNLOAD: Quilly – Haines Street Hustler 6 (Mixtape)
Follow us on Twitter/ Instagram
@TheRealQuilly | @DaRealQuilly
@HipHopSince1987
@BWyche | @BWyche1987
@RickDange
© 2015, @BWyche. All rights reserved.