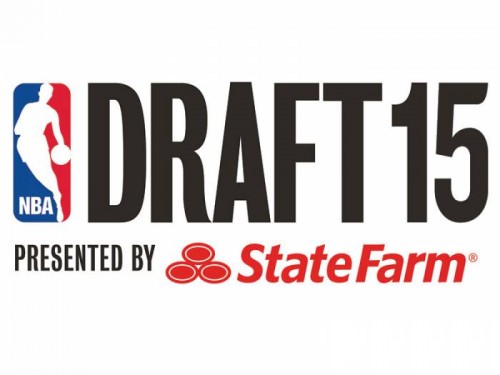 The futures of many NBA franchises are at stake tonight when the 2015 NBA Draft takes place. The futures of teams like the Sixers, Knicks, Lakers, and Timberwolves could all swing based on the players they decide to pick. We here at HipHopSince1987 are obviously huge basketball fans so we're giving you our mock draft of the 1st round. We'll not only include who we think the teams will take in the first round, but we'll also include who we think they should take and why. On draft night, trades usually always happen in the NBA and there are already rumors of big trades that may happen (The Knicks, Kings, Celtics, Lakers, Suns, and Sixers have all been involved in serious trade chatter). But to keep things simple in this article we won't be including any trade scenarios that are not yet known and will go based off of who currently holds the pick. This should be a fun draft night as it is a pretty deep draft class. Enjoy!
1. Minnesota Timberwolves: Karl-Anthony Towns PF/C –Kentucky (will draft/should draft): Towns is going to be the #1 pick, but it's not to say he doesn't come without some risk. While I believe Towns is the best prospect in the draft, you're drafting him on potential and now what he is now. While Towns is ahead of Okafor defensively (and it will stay that way throughout their career), Okafor will likely be better on offense right away. Towns has the potential to be the biggest star out of all these players, which is why you take him at #1.
2. Los Angeles Lakers: Jahlil Okafor C Duke (will draft/should draft): If Okafor is there, the Lakers would be stupid not to take him. Some say Okafor has the potential to be this generation's Tim Duncan, as their game is very similar, but I say he'll be more like Al Jefferson. He's not super athletic and will need to keep up with his conditioning/working out, but he can come in & play right away & one day be an All-Star. Lakers could take a guard here but with Kobe returning for one more season and Jordan Clarkson being one of the surprises of the NBA draft last year, they should go with Okafor.
3. Philadelphia 76ers: D'Angelo Russell G Ohio St (will draft): I'll be the first to admit I love what Sam Hinkie is trying to do and I think they go guard as it is the clear need for this team. Russell could become a really nice scorer in this league, but he's still really unproven at point guard. I think Hinkie likes Russell's all-star potential more, so they'll go with D'Angelo over Mudiay, but that may not be the right decision..… The Sixers should draft: Emmanuel Mudiay. Russell has more bust potential I think than any player in the top 10, and that should scare the Sixers rebuilding plan. Russell also didn't play well against good competition in college, which also scares me off. I like Mudiay more as the type of point guard I want leading my team. Mudiay's shot isn't ideal, but it's not ugly and he can work on. He's an athletic John Wall type of point guard that is a better fit for the Sixers needs (who knows maybe Philadelphia trades in and can get both and have a more complete backcourt)
4. New York Knicks: Kristaps Porzingis PF Latvia (will draft): The Knicks, should they keep this pick, will likely be the team that jumps at Porzingis. Porzingis to me looks like he has the potential to be a cross between Andrea Bargnani and Dirk Nowitzki, if he pans out. That's a big if however. He's not going to be ready to truly contribute right away and he will have to develop more a lot more. And it's not just his game that needs developing, his slender size and strength also needs to be improved on.. The Knicks should draft: Justise Winslow. Winslow may never be "the guy" on any team, but he can be a Scottie Pippen type of player especially playing second fiddle to a scorer like Carmelo Anthony (plus if the Knicks can get Gasol or Aldridge in free agency, Winslow could play off them like he did Okafor in college). Porzingis could be the next European star, but he could also be the next Darko. Recent NBA draft history shows us you don't want to be the team that whiffs early with a failed foreigner.
5. Orlando Magic: Justise Winslow SF Duke (should draft/will draft): I like Justise Winslow a lot and I think Orlando is a good fit for him if he's there. Winslow is a big time athlete who can score in a bunch of ways. He also has an NBA ready body and can knock down the 3 from time to time. He just has to become more consistent and realize his talent. Playing alongside athletic guards Elfrid Payton and Victor Oladipo, and an underrated and talented big man in Nikola Vucevic, Winslow would be a great addition to what could be soon to be very exciting to watch Orlando Magic team.
6. Sacramento Kings: Emmanuel Mudiay PG Congo (should draft/will draft): The Kings need a point guard, and the Kings should be very excited if Mudiay falls to them. Mudiay was the 2nd best prospect coming out of his class in high school, and for good reason. As I stated above, Mudiay is an exciting and athletic guard who reminds me of a cross between John Wall and a taller Nate Robinson. Yes he needs to work on his shot, but it's not an ugly looking shot which to me means a good shooting coach can help him improve. He doesn't have to become a great shooter, just a little bit better and more confidence. The Brandon Jennings comparison scares off people, but he's better than Jennings and if he had played in college & not overseas last year, he would be a higher pick. I know Coach George Karl wants to trade DeMarcus Cousins (so a big man could still be in play here) but there is no way ownership let's that happen, right? It would be a foolish mistake as Cousins, who can be a knucklehead at times, has gotten better every NBA season and Karl should try to fix their relationship however possible.
7. Denver Nuggets: Mario Hezonja SG/SF Croatia (should draft/will draft): Hezonja is the European I like most this draft and while he could be taken sooner (Orland at 5 also looks likely), the Nuggets will scoop him up if he's there. Hezonja has nice size for his position and he can both shoot it and take it to the whole. He's an athletic player who can also defend and I don't see many weaknesses in his game. The big knock on him is he's a foreigner (obviously) who a lot of people haven't seen play. If there's a part of his game he could improve, it's his mid-range game. Some also say he's too intense and cocky and have called him a Kobe Bryant wanna-be. He has the goods to back it up, so I'm ok with that.
8. Detroit Pistons: Stanley Johnson SF Arizona (should draft/will draft): IF Hezonja is off the board, the Pistons will take Stanley Johnson, since SF is a position of need for them and he's the next best available. He has the ability to be solid on both offense and defense and at 6ft7 and around 250 lbs, he could become a rock solid force at the position. At his peak potential, he could be a more athletic version of Ron Artest. He can knock down shots from the outside but he needs to improve his jump shot a bit. He's still a bit raw, having only played one year of college, but he's a winner who has as much potential on both sides of the court as you're going to find at this position.
9. Charlotte Hornets: Frank Kaminsky PF Wisconsin (should draft/will draft): With the Hornets trading away PF Noah Vonleh (and Gerald Henderson) to the Blazers Wednesday for SF Nic Batum, the Hornets will select a PF/C here and it's likely to be Kaminsky. Michael Jordan is said to have great interest Kaminsy (who ironically once called the Charlotte basketball team "flat out boring") and the position need is there. Kaminsky hasn't worked out for the Hornets, so they could still go in another direction, but this looks like the pick to me. Not many 7 footers have his offensive skill-set. He's got great fundamentals and a high IQ. I think he could maybe have a Matt Bonner type of NBA career, but I never see him being much more than that. He's not very athletic and will likely be exploited all over defensively, so this caps his potential for me. He would have probably been a star 30-20 years ago in the NBA, but his defense is a big worry. Still a big man with such a great shooting touch is still hard to pass up.
10. Miami Heat: Willie Cauley-Stein C Kentucky (will draft): I think Miami wants a guy his size who can run the floor, score in transition, and be a solid offensive rebounder who can play alongside last year's breakout player Hassan Whiteside. There's concern about his NBA focus since his personality is "different" than most pro basketball players, but this is of no concern to me. Cauley Stein could actually a better version of Chris Birdman Andersen in the pros. He's a defensive oriented player who could be a force on defense, but more of a garbage player on offense…The Heat should draft: Cameron Payne. I think Miami goes big here but they shouldn't. Cameron Payne is shooting up the draft for good reason. Miami doesn't need another big man who gets garbage points on offense; they should instead take a rising guard like Payne, who is a basketball junkie (more on him later). With Dragic a free agent, Wade getting older, and Shabazz Napier a dud, Heat should go with Payne.
11. Indiana Pacers: Devin Booker SG Kentucky (should draft/will draft): Booker has the potential to be an elite-level shooter, and that makes him a good fit for the Indiana Pacers. He's young and (won't turn 19 until OCT) and is a high energy athlete. The knock on him would be that he's not great defensively, is an average ball handler, and is sometimes a streaky shooter. But if Golden State proved anything this year it's that you can win these days with a team of great shooters and he has the potential to be just that. I'm not buying the Klay Thompson comparisons just yet, as he must improve other aspects of his game. But hey if "only" ever becomes just a great NBA shooter, that's plenty of reason to draft him.
12. Utah Jazz: Myles Turner C /PF Texas: (should draft/will draft): The Jazz go big here after giving up on Enes Kanter and trading him last season. C Rudy Gobert looks like he could be very good but the Jazz need some depth in the front-court. Turner is a smart player who has elite size as a projected PF and is also a very good foul shooter. Turner is a project (but so is/was Gobert) and they could finally form a great duo down low that the Jazz have been looking for. Turner isn't ready to go right away and is a big risk/reward pick but the Jazz are close to being a playoff team again, and this could be the pick that puts them over the top. Worst case he's a solid role-playing big man with a nice jump shot and at best he's an all-star.
13. Phoenix Suns: Trey Lyles PF Kentucky (should draft/will draft): The knock on Lyles is that he's not elite at any one thing but he was the most underrated player on Kentucky last year & could make whoever drafts him look very smart. Lyles versatility is key as he does all the little things well and is fundamentally sound. Lyles isn't a great athlete, but he doesn't necessarily ever have to become one. Lyles skilled offensive game is a great fit for an exciting team like Phoenix where he can be used in a bunch of different ways. Lyles, doesn't have a super high ceiling, but he could also go earlier if a team has fallen in love with his versatility.
14. Oklahoma City Thunder: Cameron Payne PG Murray St (should draft/will draft): The Thunder will be licking their chops if Cameron Payne falls this fall. Payne is this drafts "hidden gem", which I'd like to rename the Damian Lillard a war. Payne, like Lillard, is a small conference point guard who projects to be a starter at the NBA level. Payne isn't as athletic as Lillard but he is still a good scorer, makes his teammates better, and pulls off some amazing passes. Payne isn't super strong or athletic, but he is a basketball junkie who loves the game. He's a competitor who can both score and make his teammates better and will likely be one of the steals of this draft.
15. Atlanta Hawks: Kelly Oubre SF Kansas (should draft/will draft): With DeMarre Carroll headed towards free agency, and a likely big payday from some other team; the Hawks could look to replace him with Kelly Oubre. Oubre isn't a great shooter, but he's got great size and athleticism. He's got a huge wingspan and got better defensively during his up and down season at Kansas and could turn into a very good defender. Oubre really just needs to start putting it all together on a more consistent basis. He might not be ready to be an NBA contributor right away, but his two way potential is noticeable and there's a reason why he was much hyped coming into Kansas.
16. Boston Celtics: Bobby Portis PF Arkansas (should draft/will draft): Portis has NBA ready size and improved each of his two seasons at Arkansas. The Celtics need size and they'll get that in Portis who is also a solid shooter for his size. Portis is also a good defender in space. Portis isn't very explosive and must develop more of a post game in the NBA, especially with his back to the basket. Portis will never be a very athletic player, but he's passionate and smart and plays with a chip on his shoulder. He's got true sleeper potential if a team can get the best out of him and is one of my favorite guys flying under the radar in this draft.
17. Milwaukee Bucks: Sam Dekker F Wisconsin (will draft): The Bucks will be hard to pass up the University of Wisconsin's Sam Dekker. Dekker is a 6ft9 versatile athletic player who was a big part of the Badgers tournament run this year. However Dekker's whole college career has been filled with inconsistency and that scares me. Yes Dekker is a good athlete, but he's not elite, he's only an OK shooter, and he hasn't done well against longer/athletic players (something he will see in the NBA) Dekker seems more like a bust to me than his comparisons to being the next Gordon Heyward.. The Bucks should draft: RJ Hunter. I think the Bucks need more guard help and I'd like to see what Coach Jason Kidd could do with R.J Hunter's development.
18. Houston Rockets: RJ Hunter SG Georgia ST (should draft/will draft): RJ Hunter has been shooting up sometimes draft boards with his shooting during workouts. Hunter has questions on defense and with his body strength, but he has the ability to become a good volume score in the league for years to come. Hunter likely would have returned to college for one more season had it not been for his magical performance in the NCAA tournament. He's not ready yet but he's leaving while his stock is the highest. Hunter can create looks for himself and teammates and with a little more seasoning, could be a steal this late in the draft, even if he's just becomes a volume scorer of the bench.
19. Washington Wizards: Jerian Grant PG Notre Dame (should draft/will draft): The Wizards would be smart to get a solid guard to backup John Wall and Jerian Grant is just that. Grant is a seasoned playmaker who could also play alongside Wall as well at times. He's athletic, just like wall, and has NBA size that says his game should translate well to the league. The knock on Grant is that he's an older player (23) that may not have too much higher of a ceiling. But that's ok at this point in the draft. Grant will have some growth in his game, but more importantly he is ready to come in and help a team out from day one. Grant reminds me a little of the Piston's Reggie Jackson & should have that type of career.
20. Toronto Raptors: Rondae Hollis Jefferson SF Arizona (should draft/will draft): Hollis-Jefferson has been impressive during workouts, but the main reason you're drafting him is for his defense. Jefferson has the ability to be an elite defender for years in the league. His defense ability is undeniable, and the Raptors should take him here for that reason alone. He'll only be good in transition on offense right now, but if he ever improves his offense (his jumper/outside shooting) he'll be an absolute steal. If not, he can still be one of the league's best defenders in the future as he can guard many positions and is an athletic and unselfish player.
21. Dallas Mavericks: Tyus Jones PG Duke (will draft): The Mavs are again looking for a point guard and they'll likely wind up drafting Tyus Jones. Rick Carlisle likes smart guards, and that's what Jones is. What he isn't however is big or athletic. Jones helped his stock with his NCAA tournament play, but he screams bust to me and I think he just played the best basketball of his life at the right time. Jones would have been better suited returning to Duke to improve his game. He'll never possess what elite NBA PGS now do and he's likely a career backup… The Mavs should draft: Delon Wright. (See below)
22. Chicago Bulls: Delon Wright PG Utah (Should draft/will draft): The Bulls aren't looking to replace D.Rose, but they must have a capable backup in place for when Rose needs rest. Wright was one of the best two-way guards in the country last year. He's a nice playmaker and disruptive defender who could lead Chicago's 2nd unit (and 1st when called upon). Some stat guys loved him in college while others say he's not a great 3-point shooter and at age 23 doesn't have a high ceiling. What you're getting in Wright is a guy that can come in and play PG right away and for many years in the league, something the Bulls need. He's a steal this late.
23. Portland Trail Blazers: Kevin Looney PF UCLA (will draft): The Blazers seem to be acting like they think LaMarcus Aldridge will leave town. So they'll be looking for his replacement and will likely draft a PF (even though they just traded for one in project Noah Vonleh). Looney is a tough rebounder with really nice physical tools. Looney also showed off potential of an emerging perimeter game and I think that's what will make the Blazers draft him… The Blazers Should draft Robert Upshaw. If the Blazers are going to try something, they should go big. Washington C Robert Upshaw is as high risk/reward as they come in this draft. Upshaw left 2 colleges due to off-the court conduct. He is an excellent shot-blocker and rebounder. He also shoots a high percentage down low and could develop into a strong post presence in the NBA. His off the court issues are a big risk however, though he has early first round potential if a team can help him overcome his issues.
24. Cleveland Cavaliers: Montrezl Harrell PF Louisville (should draft/will draft): Harrell is an aggressive rebounder who can come in and play right away for a Cavs rotation which showed in the NBA Finals that it needs depth. Harrell also plays above the rim on offense and will likely have some jaw-dropping moments when he teams up with LeBron James and Kyrie Irving. What he lacks in height, Harrell makes up for with his tenacity. Harrell can become a high energy rotation player in the league, which would be of solid value this late in the draft for the Cavaliers.
25. Memphis Grizzlies: Justin Anderson SF Virginia. (should draft/will draft): Anderson has the ability to be a top defender in the league, which is why he could wind up being a steal this late in the draft. He also shot the 3 pointer very nicely last year at Virginia. If he can continue his shooting improvement in the pros, combined with his defense, he could wind up having a big impact in the league. Anderson can learn from the aging Tony Allen (still one of the best defenders in the league) and could eventually be his replacement.
26. San Antonio Spurs: Rashad Vaughn SG UNLV (should draft/will draft): Vaughn is starting to rise up some team's draft boards but I still think he'll fall to the Spurs here. Vaughn is a pure scorer that could replace Danny Green, should he leave in free agency. Vaughn can score in a bunch of ways and can space the floor. Vaughn may not have the top size and athleticism as some of the higher prospects in this draft, but he very well could wind up being another draft steal for the Spurs organization when it's all said and done.
27. Los Angeles Lakers: Cliff Alexander F Kansas (should draft/will draft): At one point Alexander was considered a lottery pick, but a rocky season at Kansas had his stock drop off significantly. Alexander still has a lot of potential and that's all that matters this late in the round. Alexander is a physical shot blocker who plays well off the ball. He doesn't have an advanced offensive game, but he a high energy player at the NBA level who excels at rebounding and shot blocking. Alexander has a chip on his shoulder and wants to reshape his image after his year at Kansas. He's worth the risk at this point in the draft.
28. Boston Celtics: Jarell Martin F LSU (should draft/will draft): Martin is an athletic forward prospect. Martin can run the floor and be a versatile role player in the league for many years. Martin has an improving offense but he needs to improve his shooting. He may not ever be more than a role player, but he should have no problem sticking around the league as a power forward and a key component of a team's second unit.
29. Brooklyn Nets: Chris McCullough PF Syracuse (should draft/will draft): McCullough tour his ACL in January and hasn't been able to workout for teams due to this. He's a very good athlete with a long wing span that makes him the ideal size of a current NBA PF. If McCullough adds some strength to his body, he could dominate down low in pick and roll situations. McCullough has upside on both sides of the floor and could be an absolute steal this late. Yes he's coming off injury, but his potential is that of a mid-first round pick, so he's a steal for the Nets at this draft position.
30. Golden State Warriors: Terry Rozier PG Louisville (should draft/will draft): At this point the defending champions will look to take the best player still available and to me that's Rozier. Rozier is a scorer who needs to become more of a playmaker/distributor in the NBA. But if he learns a little from Curry, he could be a really nice guard off the bench for the Warriors.
And just for fun, here are 5 other players I like who could hold strong 2nd round/undrafted free agent value:
Alan Williams C UC Santa Barbara: Williams was one of the best college rebounders in recent memory and thought his size isn't ideal and he's not explosive, rebounding is one of the most translatable skills from college. Combine his elite-rebounding with a surprisingly nice post game, he has the ability to stick around the league for awhile.
JP Tokoto SG UNC: Tokoto is another long athlete with a nice vertical game. He has the ability to become a strong defender in the league due to his size and athleticism. If he improves his shot, he could become even better. But even if he doesn't improve his shot, he can provide and impact right away for a team looking for a nice swingman.
Dakari Johnson F Kentucky: Johnson is the biggest project on this list, but I like his long-term potential. He's not going to come in and play right away, but a good team will be able to cultivate him into a solid role player. He won't ever be an elite scorer, but if he uses to learn his size, he could be a backup big man in the league for years, once he becomes a little less raw.
Joseph Young PG/SG Oregon: Young was one of the best shooters in college at Oregon (and Houston) and was also solid as a ball handler in pick and roll situations. He may have trouble against longer and more athletic defenders, and could be a liability on defense. However, Young's shot and offensive game should translate nicely to the NBA especially as much needed scoring off someone's bench.
Richaun Holmes PF Bowling Green: Holmes is a good rebounder and shot blocker whose defense should translate nicely due to his athleticism and size. Holmes also was solid on the offensive boards and was slowly developing more of a jumper as well. Shot blocking and rebounding both usually translate well to the NBA and he has both of these skills.
© 2015, JustinBurkhardt. All rights reserved.