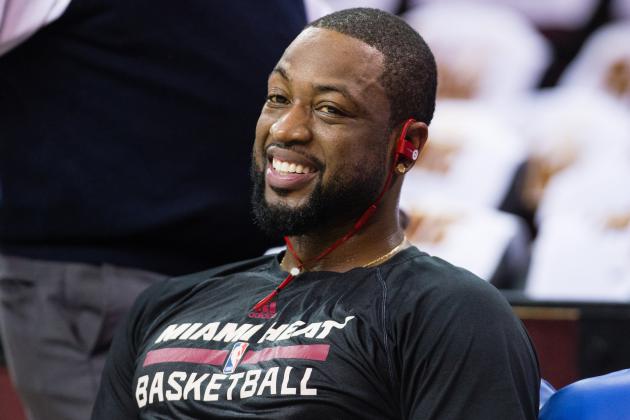 This could be a very interesting summer for Dwyane Wade and the Miami Heat. Just one year removed from the Lebron James saga, there are reports surfacing that if things don't go right this summer, the Heat could end up losing Wade in the offseason. Reports begin to surface this morning that Wade and the Miami Heat are very far apart in negotiations which could result in Wade testing free agency.
According to the Miami Herald, 
There is a significant difference between what the Heat and Dwyane Wade believe he should be paid over the next three seasons, and that gap has left his future with the franchise in question, according to multiple sources with direct knowledge of the discussions.

Though Wade prefers to stay with the Heat, where he has spent his entire 12-year career, he is now open to at least considering other teams this summer if the Heat does not raise its offer, according to three of the sources.

Wade must inform the Heat by late June whether he will opt out of a contract that would pay him $16.1 million next season.

The Heat wants to keep him but believes that paying him what he's seeking would dramatically reduce its flexibility to add additional players during the summers of 2016 and 2017.

Last summer, in order to give the Heat flexibility to augment its roster, Wade opted out of the final two years of a contract that would have paid him $41.6 million. He instead accepted a two-year, $31 million deal, which includes that player option for next season at $16.1 million.

Wade, 33, said last summer that he was curious to see what he could command in the summer of 2016, when the cap is expected to skyrocket from $67 million to $89 million. That led to the initial belief that Wade would opt-in this summer.

But according to several associates, Wade now prefers to opt out this summer, with the hope that the Heat would give him a lucrative three-year deal that would extend past his 36th birthday.
If Wade does decide to test the market, the Hawks, Knicks, Cavs, Clippers, Mavericks and Bulls could be in contenders to sign Wade. As the 2015 NBA offseason gets closer, stay tuned to HHS1987 for all your sports news.
© 2015, Eldorado2452. All rights reserved.