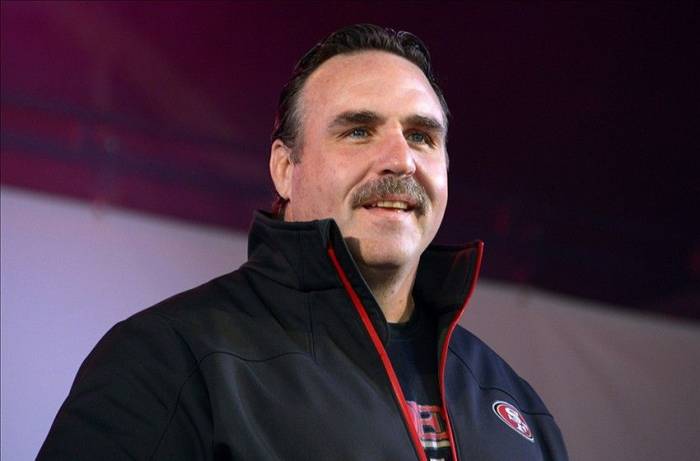 The San Francisco 49ers have parted ways with now former head coach Jim Harbaugh and them have promoted defensive line coach Jim Tomsula to the head coaching position.
Many around the league are shocked at this hire and honestly I must join most of the sports world with the "huh" feeling. I seems the 49ers want to stick to the system and formula Jim Harbaugh enforced, they just wanted someone else to do it. The hiring of Tomsula to almost has the feel of hiring a yes man for the 49ers brass.
According to ESPN,
Jim Tomsula, who has been the Niners' defensive line coach since 2007, is set to be promoted to succeed Jim Harbaugh, according to ESPN NFL Insider Adam Schefter. Tomsula, who was the interim head coach at the end of 2010 after Mike Singletary was fired, led the team to a win in its final game of the season.

In tabbing a popular locker room figure in Tomsula, though, the Niners figure to lose defensive coordinator Vic Fangio, who interviewed for the job on Dec. 30. The Niners' defense was its strength in an up-and-down 8-8 season last year, ranking fifth in the league in total defense.

And there are questions about who Tomsula brings in to replace offensive coordinator Greg Roman, who left for the Buffalo Bills. Because the Niners' offense tried to reinvent itself last year from a ground-and-pound attack to more of a spread passing offense, the next O.C. will seemingly have to make better use of the personnel at their disposal.

The promotion of Tomsula represents some continuity — he has been with the Niners for eight-plus years but was not tied to Harbaugh. The cynic will say Tomsula is a yes man to York and general manager Trent Baalke, the polar opposite of Fangio.
Did the 49ers make the right decision in promoting Jim Tomsula? Let us know below and stay tuned to HHS1987 for all your sports news.
© 2015, Eldorado2452. All rights reserved.