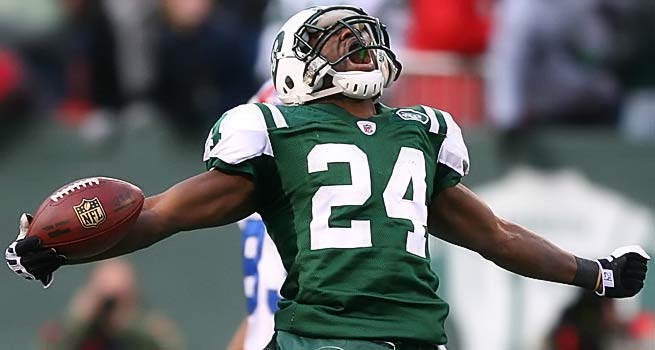 After winning a Super Bowl with the New England Patriots, future NFL hall of fame cornerback Darrelle Revis is taking his talents back to where it all began for him. After becoming one of the top free agents on the market, Darrelle Revis has signed a five-year, $70 million deal.
According to ESPN, 
The blockbuster deal came five hours after Revis became a free agent. The Patriots declined to exercise a $20 million option for 2015, but they had retained exclusive negotiating rights until 4 p.m. ET.

It was a stunning blow to the Patriots, who lost their most accomplished defensive player — a vital cog in their Super Bowl championship.

Many figured Revis had found a permanent home in New England and wouldn't want to change teams for the third straight season, but he was lured back to New York by Woody Johnson's money.

The deal will pay him $48 million in the first three years, including $39 million in full guarantees, a source said. The first two years are guaranteed — $16 million and $17 million, respectively. In 2017, $6 million of his $17 million salary is guaranteed.

According to ESPN data, the $14 million-a-year average ties Patrick Peterson and Richard Shermanfor the highest among cornerbacks. The largest guarantee for a cornerback is $48 million (Peterson).

It's a bold move for the Jets, who are looking for credibility after four straight non-playoff seasons and a regime change.

On the first day of free agency, the Jets doled out $52 million in guarantees to shore up their weakest position — cornerback. Earlier in the day, they agreed to terms with former Cleveland Browns starter Buster Skrine, who will sign a four-year, $25 million contract that includes a $13 million guarantee. In 2014, the Jets' corners managed only two interceptions, tied for fewest in the league.

Revis played for the Jets from 2007 to 2012, making three All-Pro teams and establishing himself as the best corner in the league. His final season in New York ended abruptly, as he tore his ACL in the first month.
Revis will now rejoin the Jets with a new head coach as Todd Bowles is the new man in charge in New York. Does Revis signing with the Jets make them a playoff contender? Let us know below and stay tuned to HHS1987 for all your sports news.
© 2015, Eldorado2452. All rights reserved.