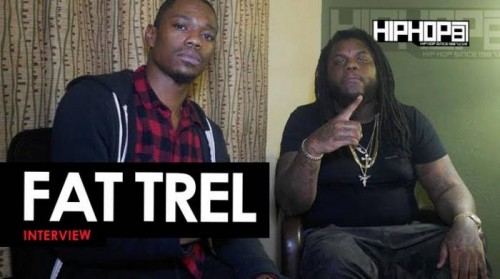 Fat Trel has been repping DC and the whole DMV area for some time now working his mixtapes through the underground and making a name for himself with a loyal following. Trel earned a coveted spot on Rick Ross' label, MMG roster and is patiently waiting on his chance to takeover the spotlight. We got a chance to catch up with Trel while he visited Philly to found out what he's been up to. The rapper has taken a bit of a hiatus, and it's for good reason as he explains to E-Money among other things in our exclusive interview.
During the sit down, the DC rapper touches on his recent hiatus from putting out music, where he says he took time out to take care of his family, paying bills and welcoming a new son. Now that he's back, Trel is currently working on his new mixtape Muva Russia in which he states,  'It's back to my April Fool's-type style shit, you know it's real trapped out, real loud you know. Blow out your speakers.' They move on to talk about how he began his business relationship with Rick Ross on a chance meeting in Miami and how Wale made everything happen. If you had any doubt about Trel's status on MMG, he confirms that he's spent Thanksgiving with Ross for the second time in a row and he's just being patient with putting out music.
Although he's not planning on putting out an album just yet, Trel is working on releasing another mixtape after Muva Russia entitled LAX to make sure he get's attention from the label he needs to drop an album. He also plans to do more music with the MMG fam as they gear up to start recording Self Made 4. Fat Gleesh also says he is excited about the artists that have been coming up in the DMV area since he burst onto the scene and how hard it is for him to book studio time now. Always loyal to his own squad, Trel gives us a total breakdown of who exactly makes up his Slutty Boys crew giving us an individual description of each person. Expect a new project from Trel early 2016 and also compilations from his Slutty Boys crew as well.   This interview was shot and edited by HHS1987's Rick Dange and conducted by E-Money.
Follow Us on Instagram & Twitter:
@Fat_Gleesh/@FatTrel
@HipHopSince1987
@EmoneyBeats/@BeatemUpMoney
@RickDange
© 2015, Eldorado2452. All rights reserved.