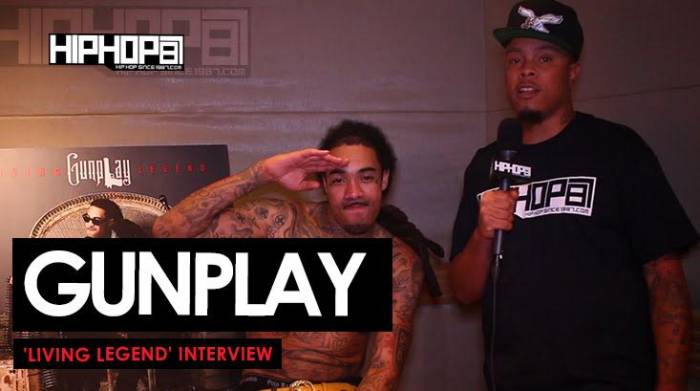 Recently, MMG artist Gunplay was here in Atlanta for a private listening session for his project 'Living Legend' so it was only right that HHS1987 catch up with Gunplay to get his perspective on 'Living Legend' and more.
After playing and performing his new 'Living Legend' album at Patchwerk Studios at his event hosted by Def Jam's own Kadife, Gunplay gave us some insight on his upcoming debut album. Gunplay's new 11 track album is set to feature Yo Gotti, YG, Rick Ross and more so Gunplay explained to us the purpose behind his 'Living Legend' title and why he decided to work with the artist he selected on this project. Serving as one of the first members on MMG, Gunplay also opened up on why his debut album was delayed so long. Noting that he was getting in his own way with jail time and childish choices, Gunplay spoke on all that being behind him and looking forward to delivering good music to the streets.
Having recently released a new record and video entitled "WuzHaninDoe" featuring YG, Gunplay also spoke on creating the record with YG and his love for the west coast. Gunplay shared his respect for YG and his career and how working with a fellow street artist like him was only right. With the success of the record, we can see that their similar background make it easy to create a quality street record.
As we concluded our time with Gunplay with spoke with him on a few other topics. Now that MMG captain Rick Ross is back in the streets following a brief period in jail, Gunplay spoke on visiting Rozay here in his Atlanta home and receiving advice from Ross on this project. Gunplay spoke on receiving Ross' blessing and being ready to carry the MMG torch with pride. We also spoke with Gunplay on the success of his label mate Meek Mill's recently number one album 'Dreams Worth More Than Money' and who he views as his top three living legends!
The interview was conducted by HHS1987's Eldorado. The interview was shot by Danny Digital.
Follow On Instagram/Twitter:
@GunplayMMG/ @itzDonLogan
@Eldorado2452
@Hiphopsince1987
@DannyDigitall
© 2015, Eldorado2452. All rights reserved.