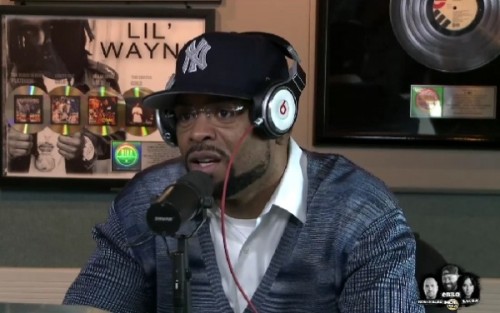 Method Man sat down with Ebro In The Morning earlier today. Meth promoted his movie with Adam Sandler, The Cobbler, spoke on and why he is turning his focus on his acting career. The Wu-Tang rapper made points of saying that he doesn't want to be 50 and rapping unless he wants to be.
After mentioning his children, Rosenberg asks the rapper if his kids truly know the affect he has had on the game. Ebro and Meth also recall a story about the rapper's youngest son wandering off minutes before Wu-Tang's anniversary performance at Summer Jam. Raekwon, Meth's 14-year-old son, wants to rap and plays sports which leads Meth to a recall his years as an athlete.
Following the conversation about his family, Meth speaks on Once Upon A Time In Shaolin. The rapper recently made some comments about the album and the 88-year hold that raised a lot of eyebrows. He explains that he was misinformed due to the fact that the interviewer informed him on the 88-year hold, not RZA, and gave him false information. Meth explains that he didn't even want to do the interview with XXL, but he did because he was promoting The Cobbler. He adds that only less than two-minutes of a ten-minute interview was used by Miranda Johnson in her story.
Meth and Ebro talked about how RZA and the group were unaware about the full direction Tarik "Cilvaringz" Azzougarh intended to take with Once Upon A Time In Shaolin. He spoke about his feelings on the backlash he and RZA have received following his XXL interview and more
Watch below.
© 2015, Julie Aly. All rights reserved.