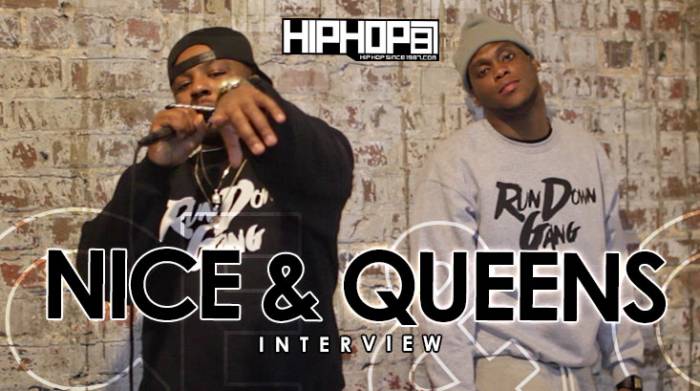 Recently, HHS1987 caught up with New York City hip-hop artist Nice & Queenz to get an overview of their 2014 and see just what they have planned for the year 2015. Linking with Nice & Queenz following their New Music Monday session with the world famous Coalition DJs here in Atlanta, HHS1987's Eldorado spoke to Nice & Queenz about their growth over the year, their Run Down Gang/ Runners movement and more.
Nice & Queenz broke down the obstacles of being indie artist and how believing in their dreams helps them face the tough roads. Queenz explained how his past of working 9-5 jobs showed him he could put the same effort and time working for someone else that he could working for himself. Looking to provide and find success, Nice & Queenz spoke on finding ways to get the money in the music business as well as their plans of getting into the fashion world.
Before wrapping up the interview, Nice & Queenz spoke on their Run Down Gang movement and how it relates to hustlers around the world and why it is important to turn your local situation to a global situation. Looking to build an audience in other markets, Nice & Queenz explained that their dreams of stadium tours and seeing their plans unfold moves them to expand for more.
The interview was conducted by HHS1987's Eldorado. The interview was shot by HHS1987's Brian Da Director.
Follow us on Twitter/ Instagram
@QueenzMusik
@NicenQueenz
@HipHopSince1987
@Eldorado2452
@BrianDaDirector
© 2015, Eldorado2452. All rights reserved.