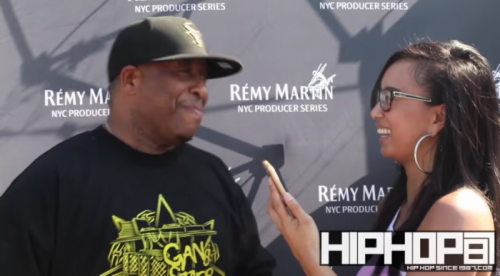 A couple weeks ago, Rémy Martin kicked off Season 2 of their Rémy Martin Presents "The Producers Series." The event took place at popular outdoor venue, La Marina, in New York City and featured legendary producer, DJ Premier. Rémy Martin ambassador, and media personality, Charlamagne Tha God, also hosted the evening as DJ Rey-Mo spun classic records produced by Premier over the years. As the crowd cooled off with various beverages provided by Rémy Martin, hopeful producers played their original music, in hopes of making it to the series' semi-finals. In the end, Newo Tha Kid, defeated his competitors, Jivinchi and Willie Walters.
After the competition took place, HHS1987's, Maria Myraine, got to chop it up with DJ Premier. Discussing topics ranging from New York Hip Hop, advice he received early in his career, to his favorite producers and new artists, and more. Check out the recap of the #RemyProducers Season 2 kick-off and DJ Premier interview below.
© 2016, MariaMyraine. All rights reserved.