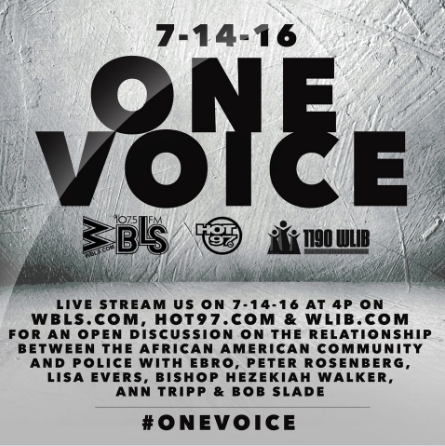 It's always a beautiful thing when the Hip Hop community can come together as "One Voice." On Thursday, July 14th at 4 pm EST, Hot 97 – along with 107.5 FM & WLIB-AM 1190 – will simulcast a special program across all three stations, as well as online. The live simulcast special with center on discussions about the current relationship between the African American community and the police. The one hour program will shed light on the recent tragic deaths that have divided a nation and has unfortunately put the spotlight back on racism & police brutality. The program's goals is to provide perspective, a voice, and to identify potential actions that will produce positive change.
Participating in the simulcast will be Hot 97's Ebro Darden & Peter Rosenberg, Hot 97 & Fox 5's, Lisa Evers, WBLS' Bob Slade from Open Line, and WBLS & WLIB's, Bishop Hezekiah Walker & Ann Trip. The program will be formatted as a panel discussion and listeners are encouraged to ask questions, share their stories and/or voice their own frustrations.
"We're hurting. The listeners are hurting. The police are hurting. With every death over the past few years, the call for change becomes reignited, but the same cycle keeps going. We can't let this continue. By coming together, letting the audience be heard, talking with government and police officials, we hope we can have honest conversation and being the process of seeing real change. We may not have all of the answers to incite that change, but we've got to start asking the questions and having more open dialogue to get there," said Ebro.
"One Voice" will be broadcast across HOT 97, WBLS 107.5 & 1190 WLIB on Thursday, July 14th from 4 p.m. to 5 p.m. ET. Listeners may call 800-223-9797 to be part of the conversation or follow #OneVoice across all social media platforms. The program will also be streamed at HOT97.com, WBLS.com, and WLIB.com, and will continue until 6 p.m. ET online.
© 2016, MariaMyraine. All rights reserved.