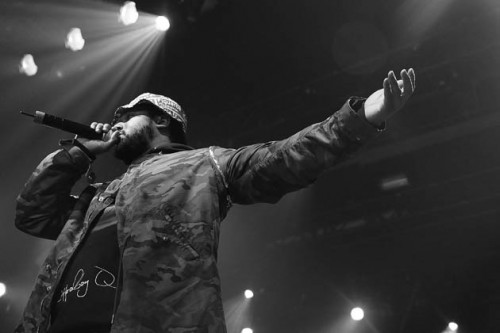 If you don't know what "FDT" stands for, then you're probably one of his supporters – and by "his" I mean Trump's. After hearing about his victory in the polls, Schoolboy Q took a moment to share a message for Trump during the Melbourne, Australia stop of his Blank Face Tour.
"Donald Trump is now the punk-ass president. I don't believe your vote count anymore. i don't believe that. Each state, everywhere I go, I don't know one person that says they were voting for Trump, including all my White friends. I don't get it."
Neither do most of us, Q.
After dropping his heartfelt 2 cents, Q performed a brief rendition of YG and Nipsey Hussle's "FDT (F*ck Donald Trump." And it was perfect. He later took to IG to post a clip of his performance and including an apology of some sort in his caption. Maan, listen Q, we are ALL in our feelings.
© 2016, MariaMyraine. All rights reserved.