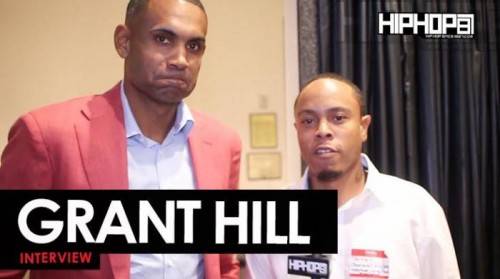 On Wednesday August 17th, the Atlanta Hawks and AgencySparks collaborated to offer a select group of the city's top creative boutiques an exclusive opportunity to display their artistic power at "Agency Shootout". The event was held at The Gathering Spot in downtown Atlanta and hosted by Titania Jordan of WXIA's Atlanta Tech Edge. The event allowed participating agencies to present solutions to Hawks-themed business challenges before a panel of judges, including seven-time NBA All-Star and Hawks Vice Chair Grant Hill, and an invitation-only audience of creative peers and business professionals.
HHS1987's Terrell Thomas was on the scene for the Atlanta Hawks and AgencySparks "Agency Shootout" event and caught up with Atlanta Hawks Vice Chair/ NBA great Grant Hill to speak on the future of the Atlanta Hawks and more.
Highlighting the "Agency Shootout", business marketing and the Atlanta Hawks new ownership's involvement in the growth of Atlanta, Grant Hill gave us some insight from behind the scenes of being "True To Atlanta". Grant Hill spoke on the Atlanta Hawks 2015-16 in-game fan experiences with Tinder night, the Sprite Hip-Hop concert series, revamping inner city Atlanta community basketball courts and more.
Having a strong role in the office with the Atlanta Hawks and also being known as one of the greatest players ever, we spoke to Grant Hill on the Atlanta Hawks 2016-17 season and the moves they made this offseason. Grant Hill spoke with us on the signing of NBA all-star Dwight Howard, resigning Kent Bazemore, Dennis Schroder running the show this season as the Hawks starting point guard and what's next for the Hawks and the Atlanta community.
The interview was conducted by HHS1987's Terrell Thomas (Eldorado). The interview was shot by HHS1987's Danny Digitall.
Follow us on Twitter/Instagram
@atlhawks
@realgranthill33/@realgranthill
@Eldorado2452
@HipHopSince1987
@DannyDigitall
© 2016, Eldorado2452. All rights reserved.