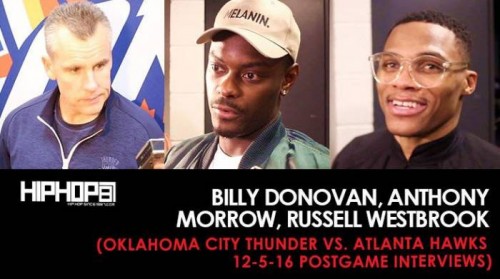 The Atlanta Hawks now stand at (10-12) after a (102-99) lost to Russell Westbrook and the Oklahoma City Thunder Monday night at Philips Arena. Following the game we caught up with Oklahoma City Thunder head coach Billy Donavon, Thunder guard, Anthony Morrow and Thunder MVP Russell Westbrook.
For the Hawks, their star forward Paul Millsap was back in the line up and he played big. Paul Millsap was (8-14) for the field scoring 24 points. Coach Bud switched up the line up Monday night starting Thabo Sefolosha and bringing Kyle Korver off the bench. Sefolasha finished with 6 points and 4 steals. Kyle Korver scored 15 points on (5-9) shooting. Hawks point guard Dennis Schroder's play continues to improve on the year. Schroder finished with 17 points and 8 assist. The Hawks fought back after trailing by 15 points scoring 30 points in the fourth quarter but it wasn't enough to get the win. The Atlanta Hawks are on a seven game losing streak.
For the Oklahoma City Thunder, they are now on a sixth game winning streak after defeating the Hawks. Thunder superstar Russell Westbrook recorded his sixth straight triple-double scoring 32 points, 13 rebounds and 12 assist. Following the game Westbrook spoke on facing the Hawks, the Thunder's six game winning streak and what it takes to keep winning this season. Following the game, coach Billy Donavon spoke on the Thunder's recent winning streak and Russell Westbrook's triple-double streak. Atlanta native Anthony Morrow scored 15 points last night. Following the game he spoke on playing in front of his home crowd and Russell Westbrook's historic stretch.
The Atlanta Hawks are back in action on Wednesday night against the Miami Heat at Philips Arena. The Oklahoma City Thunder are back in action Thursday night against the Utah Jazz. Stay tuned to HHS1987 for more NBA news. Follow @eldorado2452 on Twitter and Instagram for all your Atlanta Hawks, NBA and sports news.
Follow on Twitter/Instagram:
@ATLHawks
@Eldorado2452
@HipHopSince1987
@DannyDigitall
© 2016, Eldorado2452. All rights reserved.